The wildlife patch is one of my favourite parts on the plot and I swear I don't just say that about every part of my allotment… although I do love it all! Creating a pond was one of the best decisions I have ever made, it's not only created it's only little ecosystem but it helps the vegetables grow healthy and also gives me endless hours of entertainment. The frogs are always a joy to watch and I love seeing them all march off on slug duty during the Summer evenings. In fact ever since I added the pond slug damage has gone down dramatically and I couldn't be more thrilled. I'm happy, the wildlife is happy and I can take a guess and say that even the vegetables are happy!
During the past year the wildlife patch has been neglected and even though I didn't want to fuss over this area too much the time finally came to give it a good tidy up. Surrounding the pond are mostly perennials, I wanted to create a flower border which didn't need much work and that the wildlife would enjoy too. I planted the Carew grass for this particular reason alone and it will always remain there to create shelter for anyone that needs it. This of course all had to be weeded and the perennials had to be cut down to ground level so that any new growth would be revealed ready for Spring. The grapevine and rose were pruned and I even planted out a new Clematis at the far corner. This Clematis Montana 'Elizabeth' will hopefully soon climb up the side of the shed and onto the roof with a mass of pale pink flowers… I'm so excited about this!
Next on the list of jobs was to tackle the pond and it's one I've been dreading… Ideally the best time to clean your pond is in Autumn before hibernation although really you don't want to disturb it too much at all. The key to a healthy pond is prevention and it's something I've failed at miserably but here are a few tips: Remove leaves from the surface straight away by using a net otherwise they will rot down and give off noxious gases in the water. Try not to let any soil enter the pond so be careful when digging around the edge etc. Location is key, semi shade is perfect as too much sun will cause it too over heat, aim for at least 6 hours a day. Also be wary of creating your pond underneath any tree's to prevent the amount of leaves falling into the water.
Over the past 4 years a large layer of sludge has built up at the bottom of my pond due to me being careless with digging around the border and not removing leaves as often as I should. However, male frogs often hibernate during the winter and bury their heads in mud at the bottom of ponds… so it's not entirely a bad thing. So for now I simply removed the Water Iris to deadhead it and give it a tidy before placing it gently back into the water. The Water Forget-me-not was so over run with grass that I decided it was a lost cause, I'll be replacing it with a new one though as the frogs adore hiding underneath the foliage! I used my net to scoop out any debris on top of the surface of the water and then topped it up with the rain water from my water tank (rain water is best for your pond as this doesn't contain any chemicals.) If you are in the same boat as me with your pond and you are worried about the amount of sludge at the bottom don't panic too much. This Autumn I'll be trying to tackle it by using a stick to gently stir up a small piece of the pond, this will dislodge any debris and you will be able to catch it in your net. Just remember to leave the pile next to the pond for a few days so any wildlife that was taken out by accident can make their way back into the water!
To complete the wildlife patch I wanted to build a bug hotel, a habitat where insects and wildlife could build a home and most of thrive. I purchased this structure a year ago now and it came in a pack of three. The frames are called gabions and come in an array of sizes (this probably being the smallest) They are mainly used to create structure in landscaping and road building often being filled with stones and rocks to create retaining walls etc. However, for this particular project I thought that this little frame would provide the best structure to hold all the bits I would later forage for my bug hotel.
Whilst I was walking the dog in the forest I noticed the floor was littered with broken branches, twigs, fir cones, bark and dried fern leaves. The perfect little natural habitats for insects! So the next day we returned with a big bag and I filled it up with a few bits of everything before heading back up the allotment. The items were layered up inside the gabion frame and all that was left to do was wait for the residents to help themselves and move in! I have a special little something which is going to sit perfectly on top but that's a story for another day as I haven't purchased the bits for that yet and it's a project in it's own right…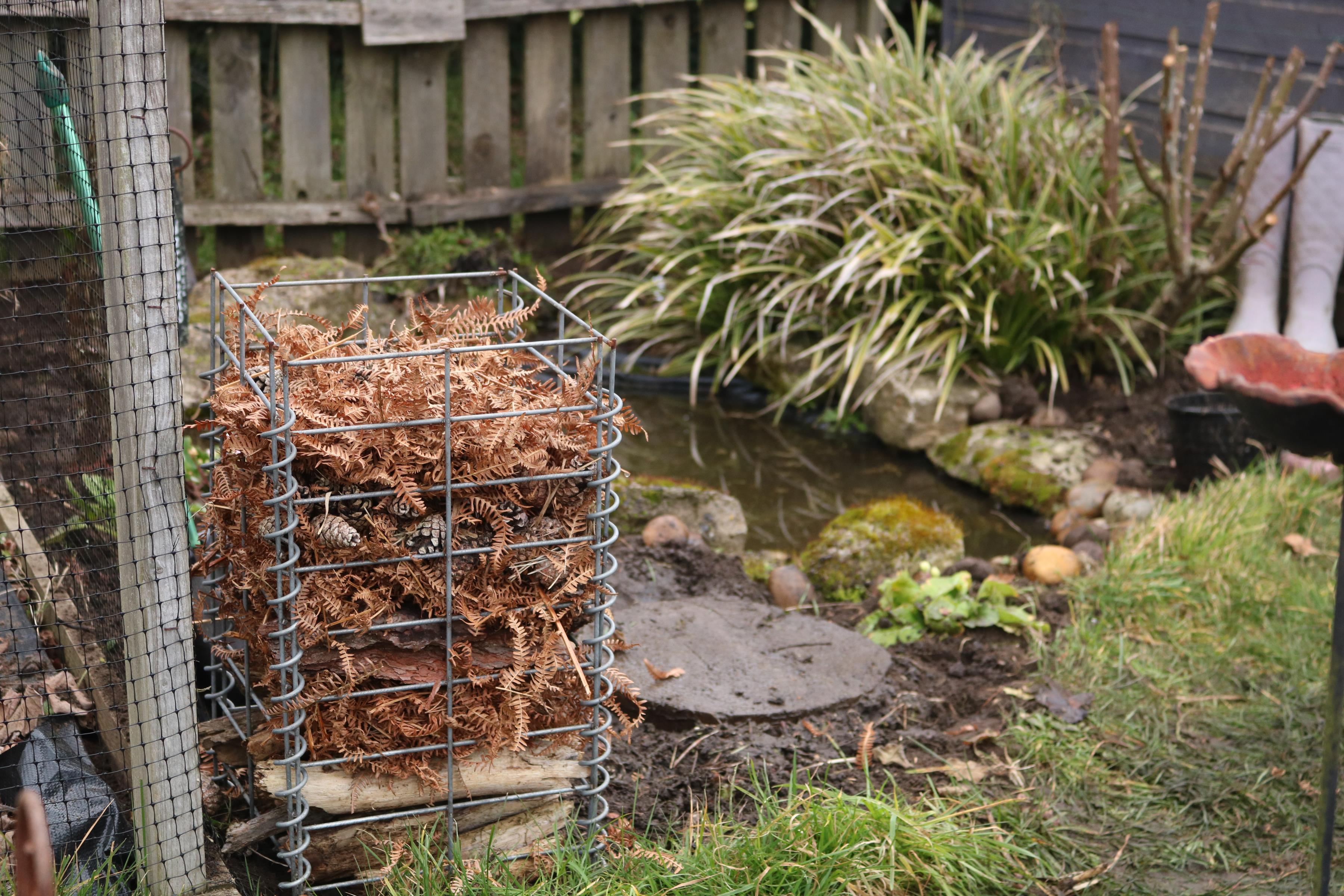 After what feels like a very long time I'm pleased to say that the Wildlife patch is finally tidy and I'm so pleased with how it looks! Of course it doesn't look like much now but in the Summer the border will be filled to the brim with flowers and happy bees, the pond will hopefully be laden with frogs and the bug hotel will have had some insects checked in for long term residency.
Even though this area is small it makes a world of difference to saving our wildlife who need us now more than ever. So if you have the time or space to build a pond, a bug hotel or even a bird table it will be much appreciated. I can guarantee you'll love it as much as the wildlife does!