It's been a whole 18 days since I stepped foot on my allotment, 18 days since I last saw it and 18 days of growth. Yes we've been extremely busy with all the gardens shows but I'm going to be completely honest with you too… lately I've been lacking the motivation. It's been a bit of a struggle to get myself up to the plot and that's not like me at all, I'm sure this weather hasn't helped but the stress of everything has really rained on my parade. I'm struggling with keeping up with social media, struggling to plant everything out in time and really just struggling with where I am and where I want to be going with my life. As an over the top planner and perfectionist this is a very hard place to be I just can't seem to focus on what I actually want in life… if that makes sense?
On Monday evening I made myself visit the allotment, there were brassica seedlings that needed planting out and quite frankly I think I needed that kick to reignite my love of the garden… It sure worked!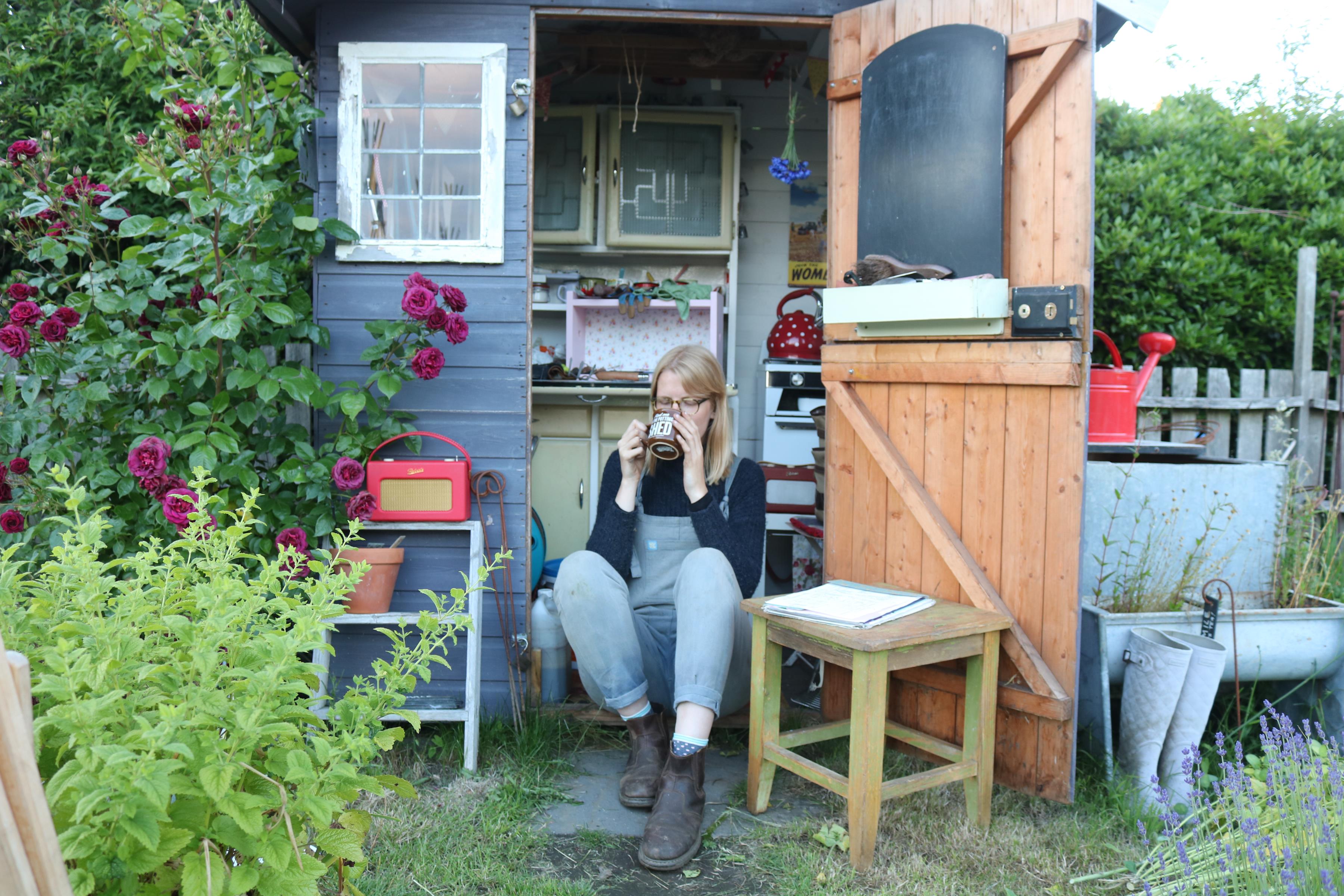 I got straight stuck into planting out those brassicas; a row of purple sprouting broccoli, sprouts, cauiliflower, kale and red cabbage all mingled with companion plants such as zinnia, nasturtium and dill. The frame work went up and the netting was secured in place to protect those plants from the dreaded cabbage white butterflies and the pigeons. I couldn't help but stand back and admire my hard work, a little late but the brassicas were in and I was feeling mighty happy with myself!
Next I turned my attention to the flowers, my beautiful rose bush had started blooming without me and there were plenty of them to deadhead. It's actually one of my favourite jobs and I always marvel at the beauty that still lies within those dying petals. The cornflowers were next on the deadheading list and I also made sure to cut some of the pretty blue flowers to dry into my shed. One job I had on my list for a month now but never got round to doing it so I must have missed a few blooms, although there's still plenty in bud too! The Honesty also had a chop, it's been battered by all the rain lately so I thought it would be best to let it dry off in the shed. I'm so excited to see those green pods change into silvery paper beauties. This year I'm attempting to grow more flowers for drying so the poor shed will (hopefully!) be jam packed with flowers hanging from the drying rack. In fact I'd love to build a little building just to dry flowers in…
The allotment is far from how I was expecting it to look this time of year. Everything is a little behind for me and there's bags of weeds waiting to be taken to the tip making the rhubarb bed look messy… But I'm choosing to forget those areas and focus on the good. Yes the sweet peas might be struggling but they'll get there, the radish might have bolted but I'll sow more and those bags of weeds will disappear soon enough.
The majority of my seedlings have been planted out so I came away happy and full of new motivation and love for the allotment. My little trip had succeeded and I'm already counting down the days until I can visit again! However, we're off to the Woburn Abbey Garden Show this coming weekend and then it's the big one… Hampton Court Garden Festival!