We arrived back from selling at the RHS Hampton Court Palace Garden Festival late on Sunday night after being there all week having the best time! Lot's of early mornings, late nights and being on your feet all day have left us a tad tired but I was eager to get up the allotment. Luckily for me my Mum offered to come up and help me harvest a few things and we ended up having the perfect Monday evening together in my happy place.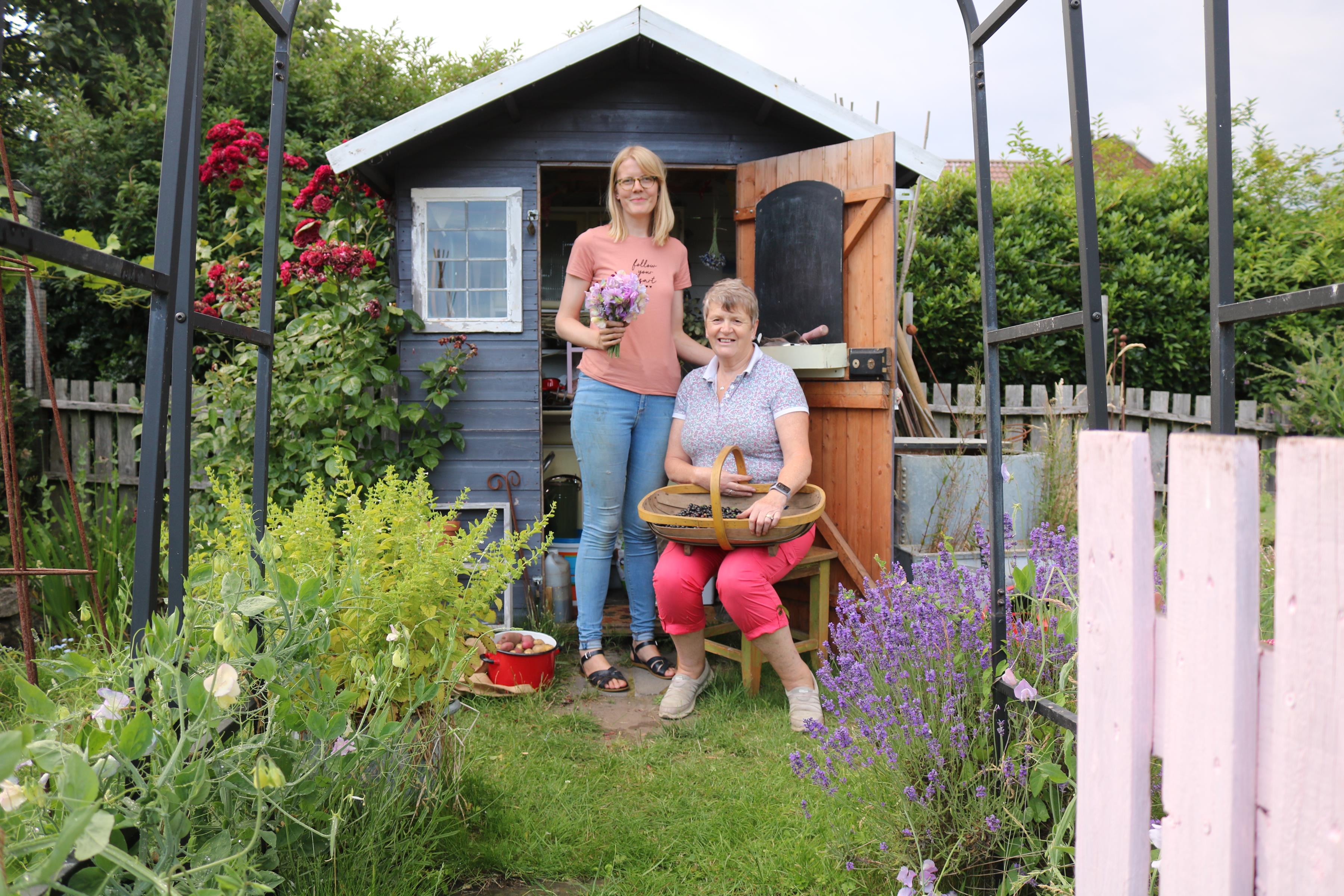 I've come to terms with the allotment being a little messy at the moment which is actually quite a nice feeling. This past year I've felt really terrible for neglecting it, almost ashamed to visit or post any photographs but right now I'm embracing it. I've been extremely busy with work and life in general and that's fine, we can't do everything after all so why spend hours worrying about what we can't do and focus on what we can?
It might be neglected, covered with weeds and needing a good tidy up but the allotment is still producing and that makes me extremely happy. I set my Mum the task of picking all the ripe blackcurrants, in fact I was almost sure I had lost my blackcurrants as they were ready to pick before we even went to Hampton over a week ago! She managed to almost fill the whole trug with those juicy purple berries and that was only 2 out of the 4 bushes, the other 2 weren't quite ripe yet. I spent all of Tuesday evening making blackcurrant jam and now we have 8 jars to keep us going through the Winter.
Whilst she was busy picking the blackcurrants I dug up my first row of potatoes and couldn't contain my excitement. There's something so magical about digging up homegrown spuds and it never gets boring! I had completely forgotten which rows had which variety and I started to dig up the Red Duke of York by accident. Although part of me is rather glad I did as I was so happy to see those beautiful little red potatoes staring back at me and I can't wait to try them. I continued onto another row and found the variety I was looking for, Charlotte. We had them for supper with bacon, egg and homegrown broad beans from my Dad's plot… our favourite Summer treat and the salad potatoes were particularly delicious with lashings of butter.
The last crop I wanted to pick were the Sweet peas, the archway was brimming with them and I wanted to continue to cut them so that the plants could continue to produce more and more over the Summer. I'm so pleased with the colours of these varieties, they almost remind me of mermaids with the purple and blue tones. Plus the smell was to die for!
I let the sprinkler do the watering work for me whilst we were both busy harvesting and I plan on waking up extra early one day this week to sort those weeds out. The plot might not look the prettiest or win any awards but it's continuing to produce and that's all that matters right now. We're busy getting ready for RHS Tatton which starts next Monday so the schedule is still pretty busy for the whole of July. However, we have no shows booked for August so I'm planning on spending a lot of time on plot 15c to sort it out and I really can't wait!