Early mornings up the allotment are my favourite, not only is it peaceful and so much cooler in those early hours but the morning sun light always takes my breath away. Somehow it manages to make the allotment look so much more green and lush, leaving a magical aura that makes me fall in love with my little patch of land even more. That morning after I had finished my jobs I actually sat down with a cup of tea on my shed step and felt such a huge amount of love and pride swell inside of me. It's hard to explain but I'm sure as fellow gardeners you all completely understand how much a garden can create so much happiness?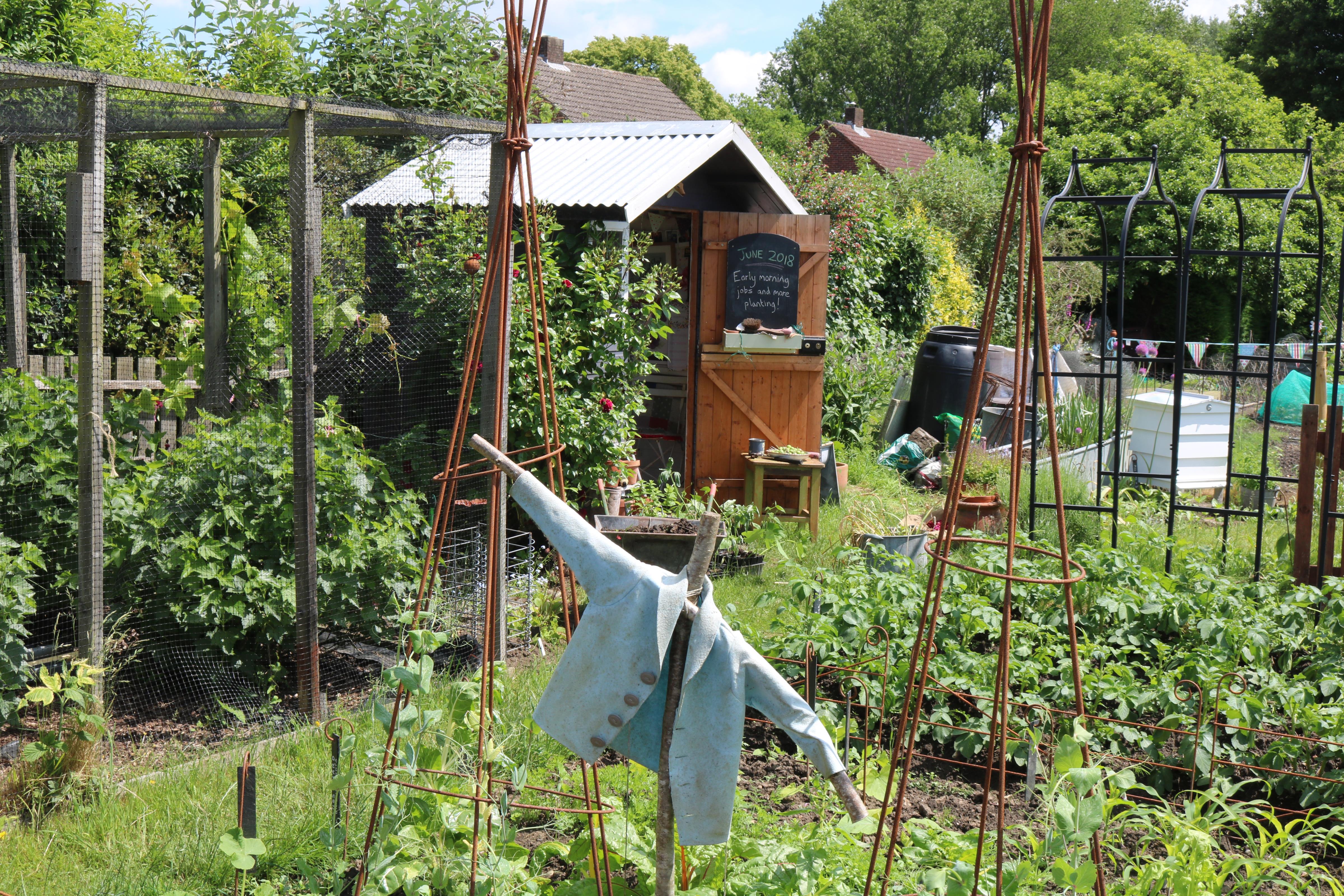 I woke up at 6am on Saturday morning and headed to the allotment with my car full of seedlings, I had so much I wanted to do in those 5 hours before we had to go and set up our stall at a local garden show during the afternoon. First on the list was to plant out my brassicas and get them safely into the soil before it got too hot, although it warmed up very quickly! I was super excited to get this bed planted out because last year it was non-existence and I so missed having fresh brassicas to harvest and serve up for dinner. This year I'm trying a few new varieties and I cannot wait! In went 6 red cabbages 'Ruby Ball', 6 curly kale 'Scarlet', 6 cauliflower 'Autumn Giant' and 6 brussel sprouts 'Brodie'. Each row is 12 inches apart and each plant has a distance of 16 inches between them. I'll be erecting a frame to go up in this bed for the butterfly netting to drape over in a few days time but for now I simply covered them in some netted tunnels to protect them from those pesky pigeons.
Whilst I was at the allotment I also tackled the weeded raspberries by pruning the runners back and pulling all the grass up around the base. This has made it so much tidier and I can actually walk around the raspberry frame now! I'll be heading back to the allotment in the evening during the week to try and dig up the grass roots, although this is a task I'm not looking forward too… I also weeded the wildlife patch, tied back the grapevine, dead headed the rose bush and planted out some more flowers around the pond including a dwarf Sunflower, a Borage, some Calendula and two Lady's Mantle. I also popped some chives and garlic chives along the edge of the wildlife patch and also under the rose bush, they are supposed to be great companion plants for roses plus I thought they would grow into a nice little border edge for this patch!
The last two things on my list that morning was to thin out the fruits on the apple tree, it's one of my most hated jobs but worth it in the long run. This will be the first year I'll be harvesting any apples from my tree and I am so excited about tucking into my first homegrown James Grieve apple! I made sure to leave the biggest and healthiest fruit, taking away any diseased or malformed ones so that from a bunch of around 8 fruits I was left with one. I felt so bad taking away all these lovely little apples but needs must and I'm sure the tree will reward me in the future.
Last but not least I finally managed to take all those bags of rubbish to the tip on the way home. That means that the allotment is now completely rubbish and weed bag free and that makes me so happy! Once that little area to the side of my shed is tidy and the raspberries are weeded the whole entire plot will be up and together. I haven't felt this proud of myself and my little plot for such a long time and I just hope the year continues on this note!
P.s There's a new video over on Youtube all about my adventures up the plot this morning including all I've just talked about! https://youtu.be/xXodGPLwRuc