I love Autumn, the crispness in the air, the thick woolly jumpers and heart warming homemade food to name but a few of my favourite things. This year I'm welcoming the season with what has to be one of my proudest moments on plot 15c, the squash harvest…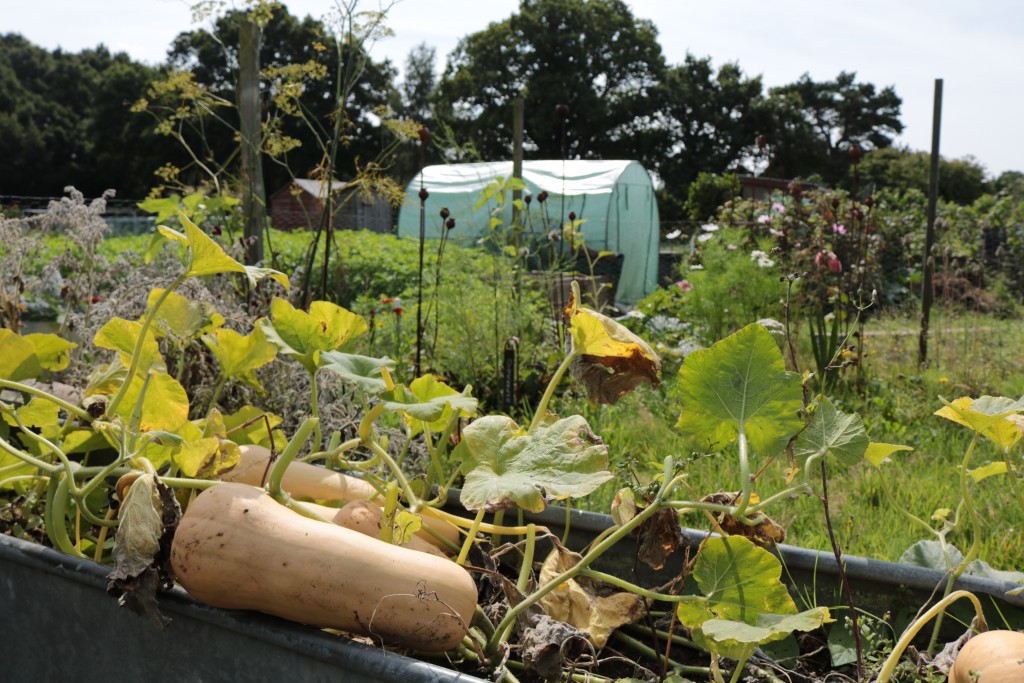 As you all know I've had trouble growing squash in the trough for the past couple of years and I had all but nearly given up hope of getting a harvest from it. However, earlier this year once the tulips had died back I planted out a single butternut squash into one end of the trough and remembered to keep it watered throughout the Summer. This along with the 6X Natural Fertiliser that I added to the soil in the Spring worked it's magic and the vine grew and spread until it filled the trough and beyond. I watched it throughout the next few months when small fruits started to appear and grow into large squashes before ripening on the plant. I've been placing large leaves underneath each squash to protect them from the soil, I was so worried that they would rot after all this hard work and time in producing them.
On this crisp September day after two of the squash had fallen off the vine I decided to harvest them all to save them from the elements and the insects. We've been getting so much rain lately and the temperatures have dropped suddenly so it only seemed right to bring them into the shed to store. I cannot explain to you the happiness and pride I felt when picking those squash, after years of trying I had finally succeeded and it sure felt good! Not only was I pleased to be harvesting squash but the squash turned out to be massive which made it all the better. 4 extra large, perfect looking squash and one medium one totaled 5 and I was the happiest girl in Hampshire that day. It just goes to show that with a little patience, a huge amount of hope, some strong fertiliser and lots of water you can succeed in growing what you want. I almost don't want to eat them! Alas they will be made into a few delicious dishes including my favourite soup… that is after I stop obsessing over them!
The squash aren't the only success this year… These two tiny Munchkin pumpkins were all my 4 plants produced this year and even though this looks like a failure it's a complete success in my eyes. Nothing will ever beat my first crop of 33 Munchkin pumpkins back in 2014 but every year since then the Munchkins have produced zero harvests. So these two perfectly formed pumpkins made an already happy girl even happier and they'll be used as decoration in the house throughout Autumn to remind me to never give up and keep trying.
Along with the butternut squash and the munchkin pumpkins I also harvested some more raspberries to freeze, a handful of carrots to have in a stew, a few cosmos and a bowl of borlotto beans. I absolutely love borlotto beans but I didn't get the huge harvest that I wanted this year. The archway (if you can still call it that?!) hasn't produced brilliantly for the past couple of years and I know deep down that this is due to neglect. Plants need a lot of time and attention and sometimes life gets in the way but for now I'm feeling ever so grateful for the harvests that I'm getting. Who knew that a trug full of beautiful squashes, some tiny pumpkins and these little blessings of homegrown goodies could make a person so happy?