Having arrived back from RHS Tatton late Monday afternoon I couldn't wait to head down to the plot to see what has been busy growing and how much it had changed. I know I was only away for a week but believe me, a lot can change in those 7 days!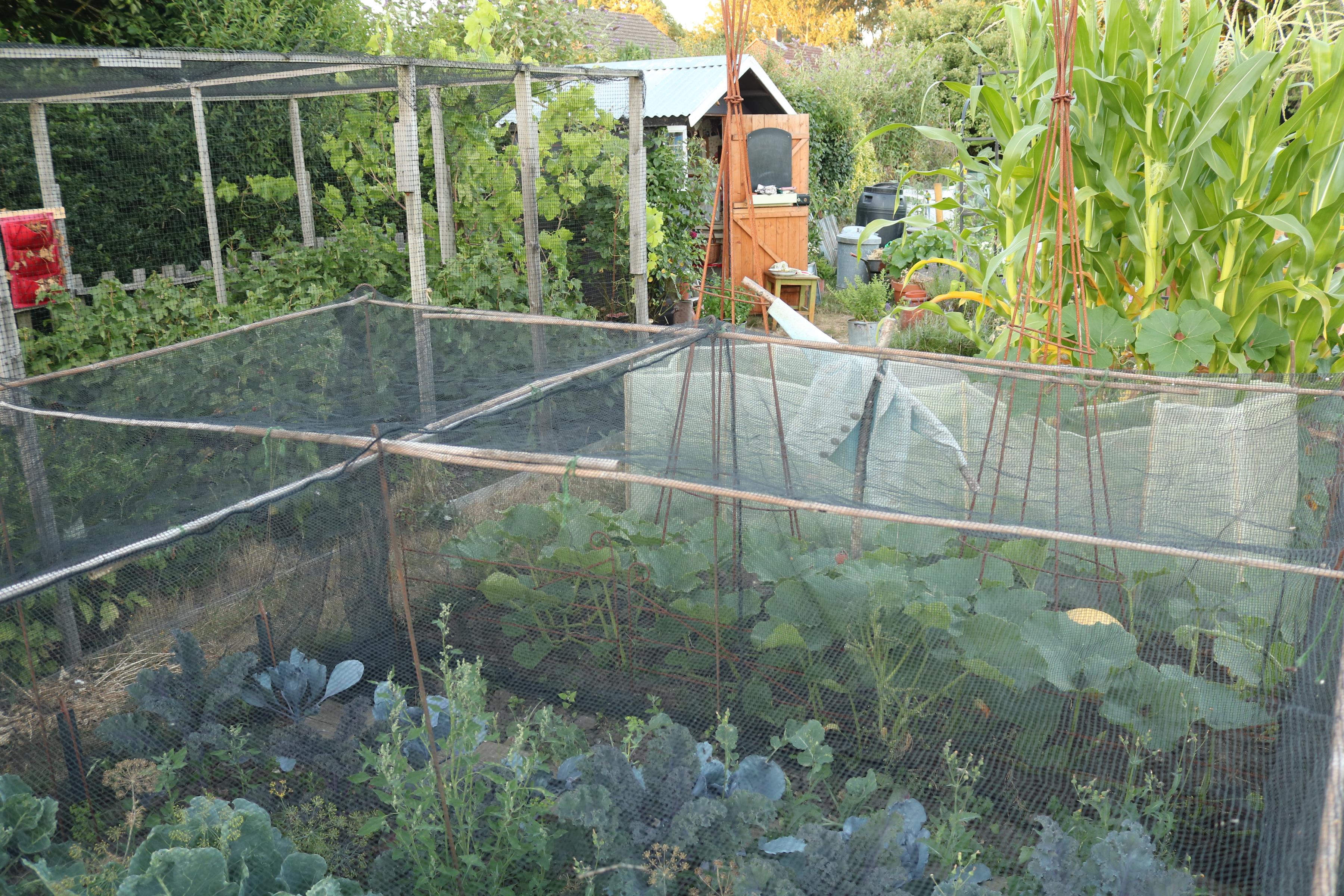 I woke up extra early so I could pop to the plot for a couple of hours before getting on with some work, plus the heat is just about manageable during the early hours. The first thing to hit me was the height of the sweetcorn, it had shot up and is nearly 8ft tall! Both the tassles on top and lots of miniature cobs had appeared on the stalks during the past week and it made me beam with joy. I gave the stalks a little shake to help with pollination and then continued my walk around the plot. Next to surprise me was my squash and what I had orginally thought was my 'Crown Prince' squash… Looks like I got the labels mixed up because it's huge and yellow! Everything else on the plot is looking great and growing well, the brassica bed is packed with goodness, the courgettes are still producing, there's two small 'Crown Prince' squash (or maybe they are pumpkins too?!) growing amongst the sweetcorn and the newly planted swiss chard and leeks have settled in well. There are also around 6 baby butternut squash in the trough which I am so happy about! Luckily my lovely Mum was here to water both mine and my Dad's plots and she did such a great job.
I was also pleased to see that my black currants were still ready to harvest on the bushes, I had noticed them before leaving for Tatton and was worried by the time I was back I would have missed them. I harvested a huge load from them a month ago now and placed them in the freezer to wait for the late comers, so this harvest will join them and when I get a spare 5 minutes they'll be made into my Dad's favourite jam.
Another job I was hoping to do before going away to Tatton was to harvest the lavender, it's a job I hate doing because it looks so nice on the allotment but I have plans for those dried little flowers. I have two well established bushes on my plot and I was so bad at pruning them last year, in fact I pruned one so hard it looked particularly bad this year whereas the other one thrived! I cut a large bundle to dry inside the shed and made sure to leave lot's for the bee's aswell, I've really enjoyed watching them buzz around the Lavender this year and I'm sure they enjoyed it too.
The cut flower bed is starting to look a little tired now and even though I am pleased with it there are some areas that need improving. The poppies I sowed a few months ago never germinated and I was late planting out my feverfew, plus the dahlias are new and rather tiny. However, this is a work in progress and it can only look better year after year right? I did manage to cut a few blooms and I am so happy with my harvest, the sunflowers are my favourite new addition to the plot and I'm pretty sure I can't live without them in my life from now on. I love sunflowers anyway and the large 'Mongolian Giant' have been smiling at me for weeks now, these little 'Sonja' one's are just adorable and really brighten up the house as well as my heart.
I was also pleased to spot my all time favourite cut flower in seed, Scabious 'Sternkugal'. I actually harvested some of the flowers a couple of weeks ago and I love the delicate blue and pink flowers, but the seed heads are why I grow this particular variety. They are just the most beautiful and structural flowers I have ever seen and they look beautiful sitting in a vase, plus they will sit there for months and months without dying!
So all in all I left the plot a couple of hours later as happy as can be. My heart was content and my basket was full of homegrown goodness, it felt good to be back!
P.s We're busy selling at the Loseley Park Garden Show near Guildford from the 27th until the 29th of July!