It's so easy to lose yourself amongst the chaos, to rush around day by day and watch the months fly past in a mad haze. It's exactly how I've felt this Summer. What with being self employed and working on our family business both online and at the garden shows whilst trying to take the blog and social aspect of Lavender and Leeks to the next level and the not forgetting trying to make a life in Wales… I'm caught in that trap of trying to live two lives and if I'm honest it's stretching me to the breaking point! A day up the allotment was in order…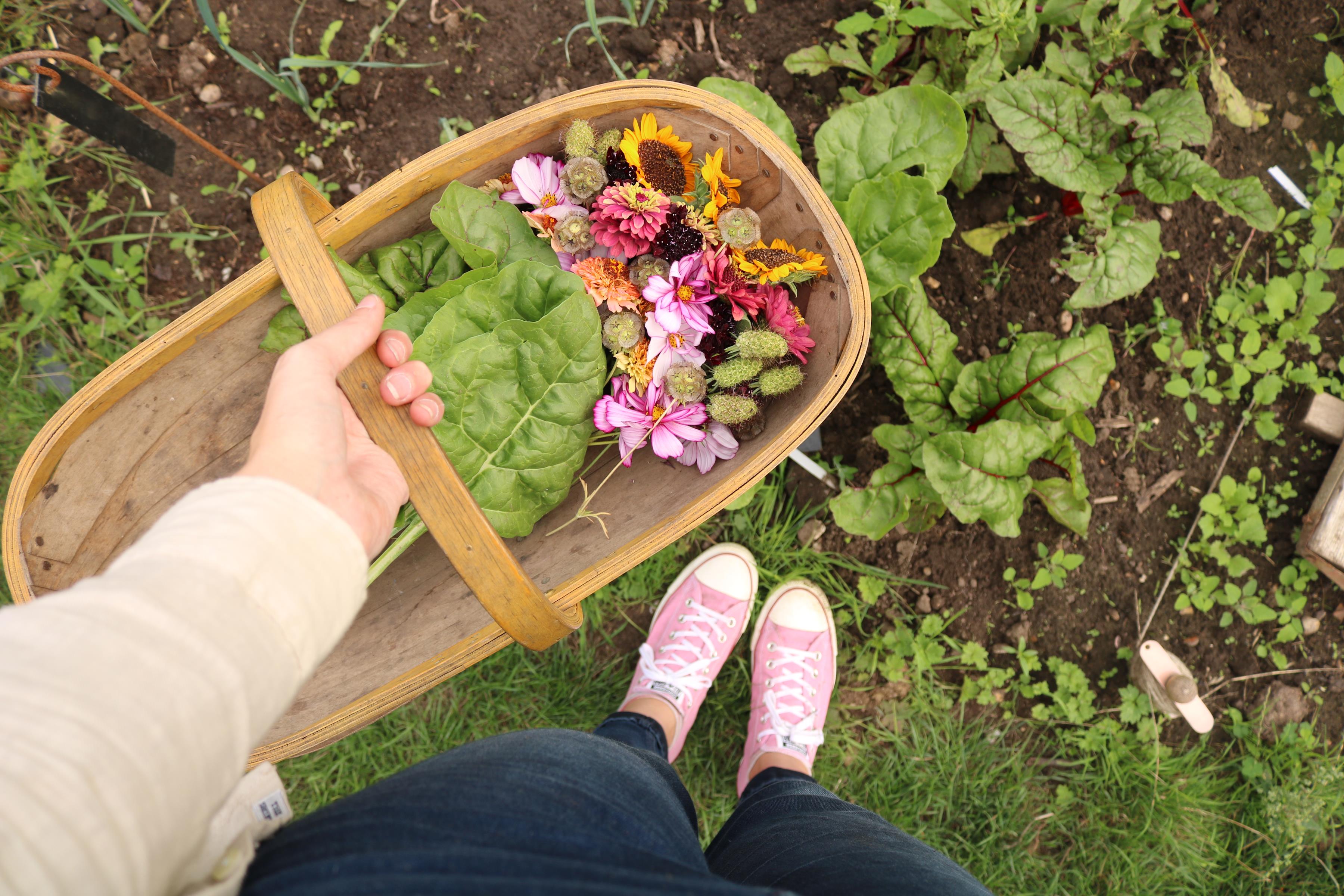 For the first time in a while I actually managed to tick my August jobs off the list and I was feeling quite proud of myself. The only thing left to do was make my manure bin but seeing as my Dad didn't have time to cut the metal sheets before his holiday I let this job go for a while. Instead I picked a few flowers from the flower patch and dead headed the cosmos which is putting on a beautiful display. I'm so pleased with my dwarf Sunflower 'Sonja', it's been my favourite cut flower this year and a must have for future years to come. I picked some Scabious, Zinnia, Cosmos and also harvested a few of the Scabious seed heads to add to my posy, I have this thing with seed heads!
After the flowers had been picked I decided to cut the huge sunflower heads down to dry. This is one of my favourite jobs to do although a rather early one this year. I usually save a few of the sunflower seeds and then leave the rest out for the birds and wildlife to feast on. I also harvested a small amount of my chamomile flower heads after they put on a second growth this year. It's not much but I'm looking forward to enjoy my first cup of chamomile tea very soon with the promise of a larger chamomile patch next year to fuel my addiction.
The last little thing I wanted to do that day was to tidy the shed, it had been forgotten about lately and left to get a tad messy. Plus because it's so small it's such a pain to sit in and do anything when the table top is covered with mess! I rearranged the cupboards and made space for my new herbal tea jars, they are starting to fill up and I just love the apothecary look to them. Hopefully I'll be able to fill more of the jars later this year with homegrown herbs and edible flowers.
Last but not least after I had tidied the shed I poured myself a cup of tea, sat down on the shed step and got my new sketchbook and pencils out of my bag. I enjoyed art so much at school and later studied it at A-level but busy times meant my love of drawing got pushed to the back and I haven't done any for years. It was one of my new years resolutions to make time this year so that is what I am doing, even if it was just for half an hour so far. The plan is to fill my little sketchbook with sketches of the allotment, most of which will be drawn from photographs I've taken during previous years on the plot. Little snippets of my allotment life which I can cherish forever. After all, life is about making memories that you can look back on with a smile.