The allotment is really starting to come into it's own right now, everytime I pop up there I seem to be coming back with something and it makes me so happy! You really can't beat that feeling of harvesting something that you've raised from a tiny seed.
It's officially courgette season and I came home the other day with the biggest harvest to date! This year I'm accidentally growing three courgette plants instead of two (one was meant to be a pumpkin!) so I've never been in this position before… Not to worry though, I have a few recipes I want to try out and can't wait to share them with you inside the little purple potting shed.
The flower patch is also looking the best it's ever been, although I know it's going to take me another year or so to get this area looking just how I want it. The Ammi Majus has stolen the show and been providing me with beautiful white sprays for months now, even when the white petals drop the bright green stems remain stunning (and I think I secretly love them more!) The Cosmos are in bloom and so are the Zinnias alongside the ever blooming Calendula which is being picked regularly and left to dry on the herb rack. New to the flower show are the dwarf sunflowers 'Sonja' and I have to admit I am utterly in love. I'm a huge fan of sunflowers anyway but these miniature beauties are stealing my heart and they just look adorable bundled together with the rest of my cut flowers.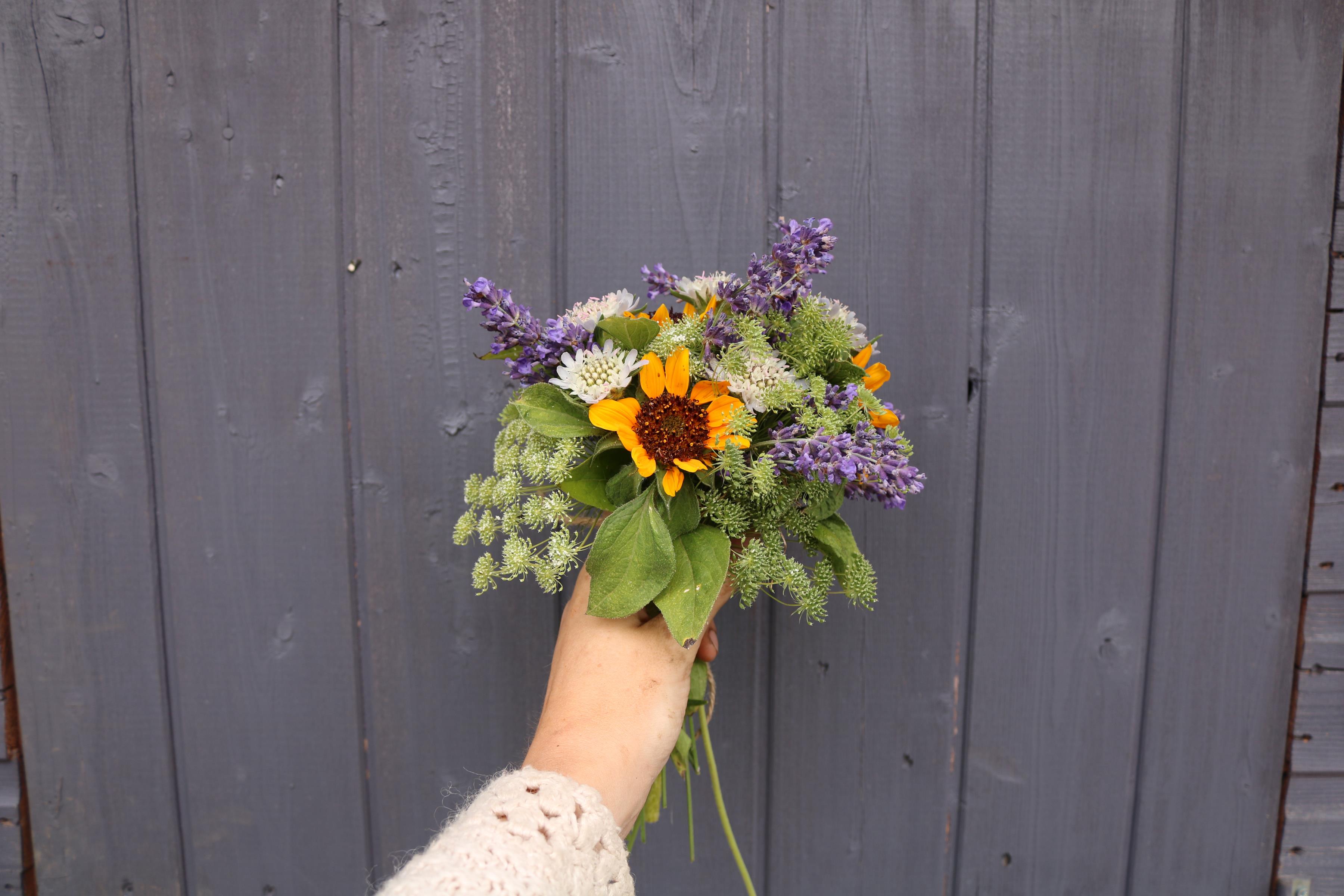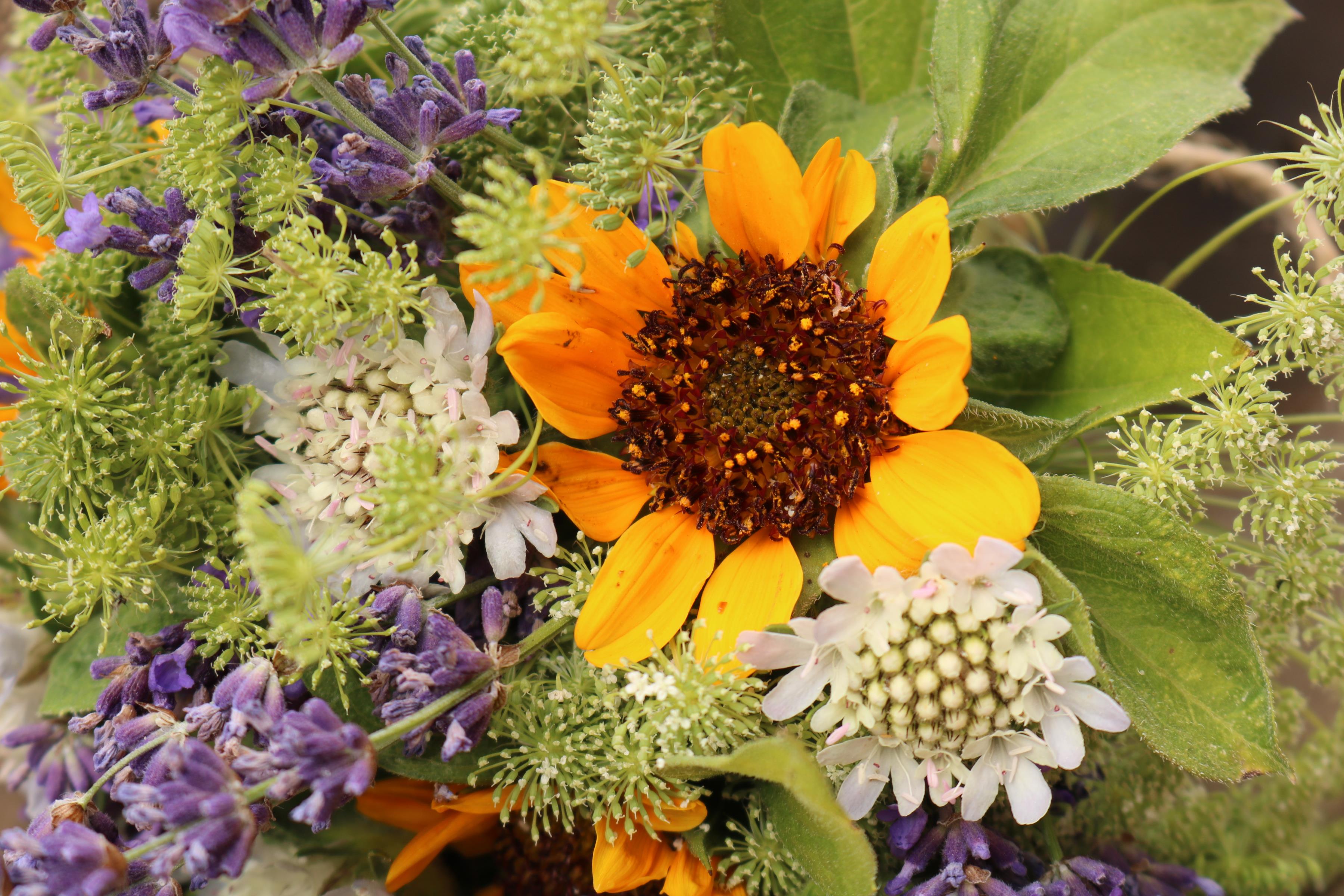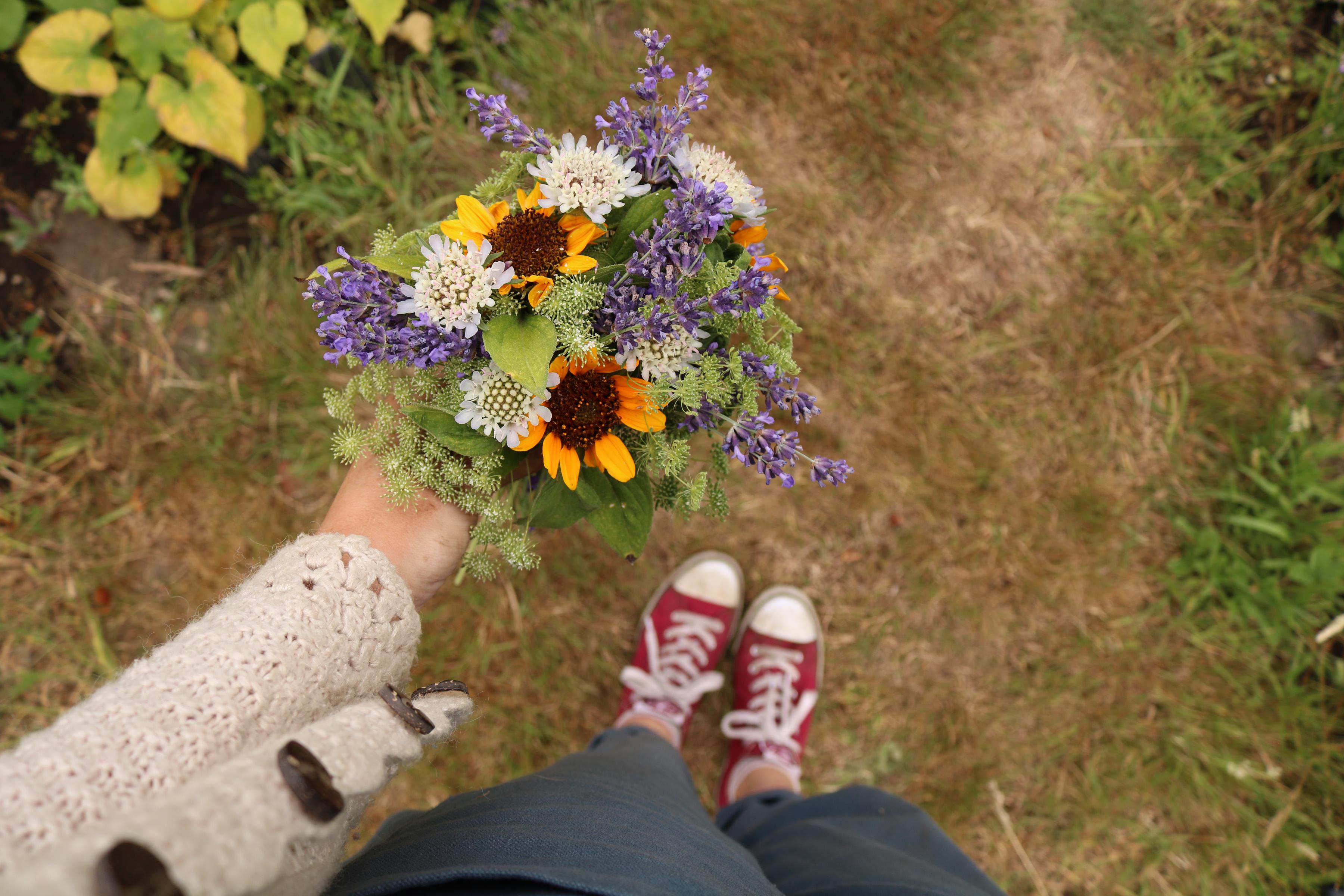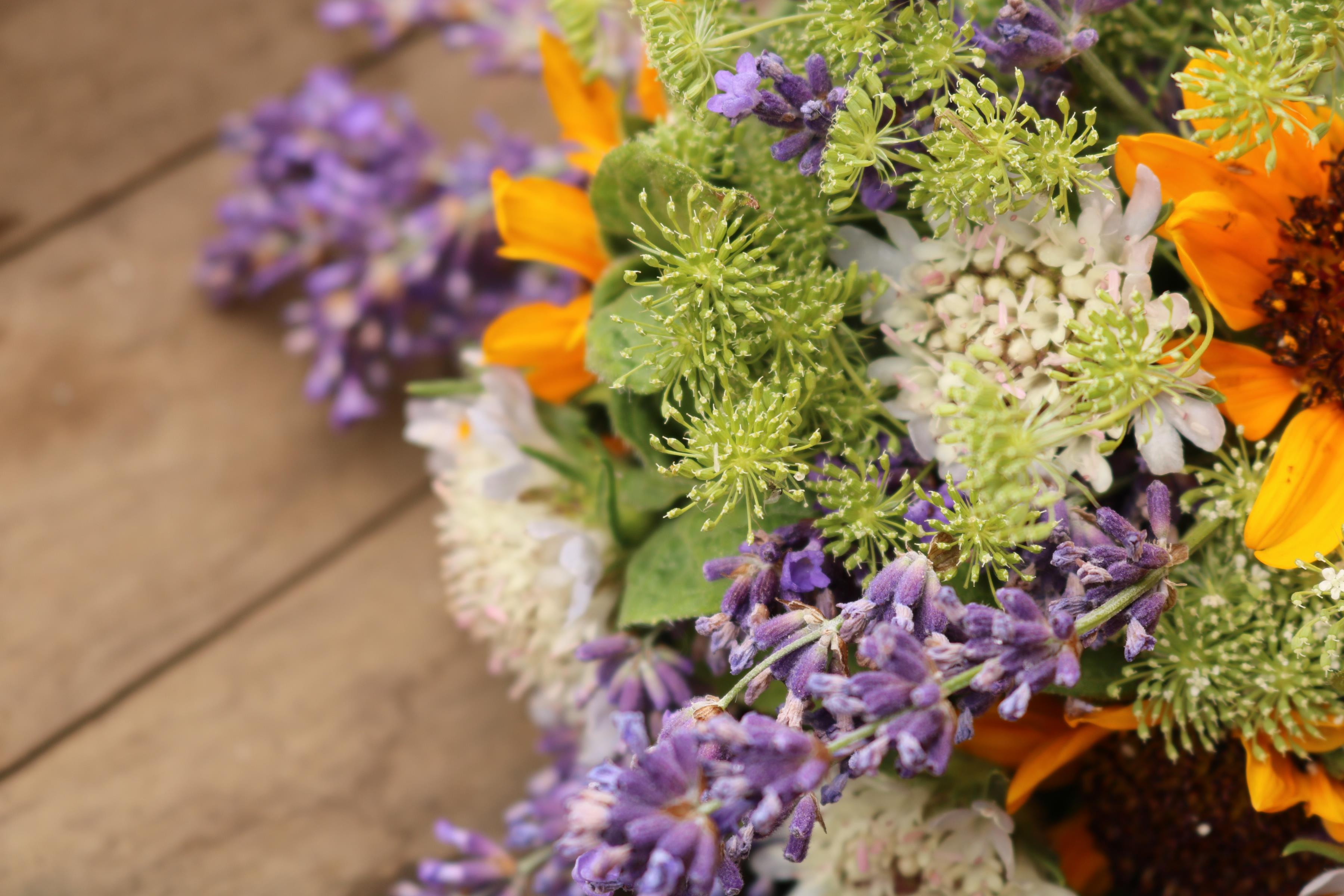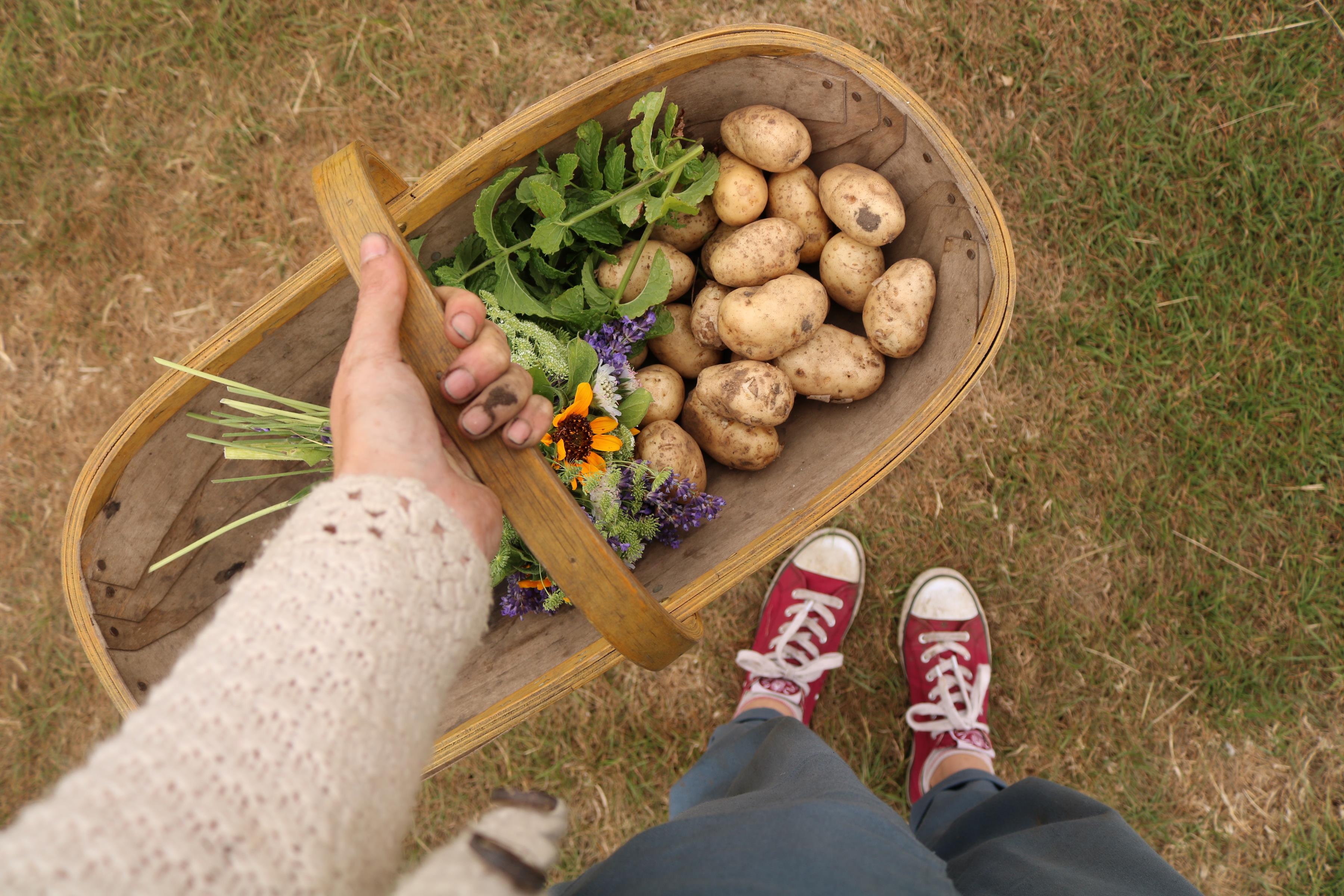 Last but not least I'm pleased to see that my favourite all time Scabious has started to bloom and I couldn't be happier. 'Sternkugal' is not only beautiful in flower but they produce the most amazing seed pods! Quite miraculously I've been finding time to pop up the allotment in the evenings or very early in the mornings so I can keep on top of jobs like dead heading and cutting flowers to bring home, which of course means I should be getting more flowers over the next few weeks or maybe even longer. That's never a bad thing is it?
Life has been hectic this Spring and Summer and we are currently getting ready to sell at the RHS Tatton garden show which starts on Wednesday the 18th. Finding time to go up the allotment is rather rare but I'm trying my hardest to enjoy it as best as I can, so if that means waking up at 5am to spend a couple of hours there then so be it! It does mean that I'm struggling to fit everything else in and there's currently two videos waiting to be edited and lot's of blog posts that I want to write, including a special celebration post that I'm so eager to share with you all. I am learning however, that not everything has to be rushed and done straight away. Blog posts and videos can wait a week or two if they have too, it's all about enjoying the moment as best as you can and dealing with everything in time.