Ever since owning my allotment I've dreamed of making my own jams, preserves and drinks using homegrown produce that I've lovingly looked after and harvested. That feeling soon evolved into wanting to make more homemade goodies and this past Christmas I've been busy making some special hand crafted gifts for my friends and family.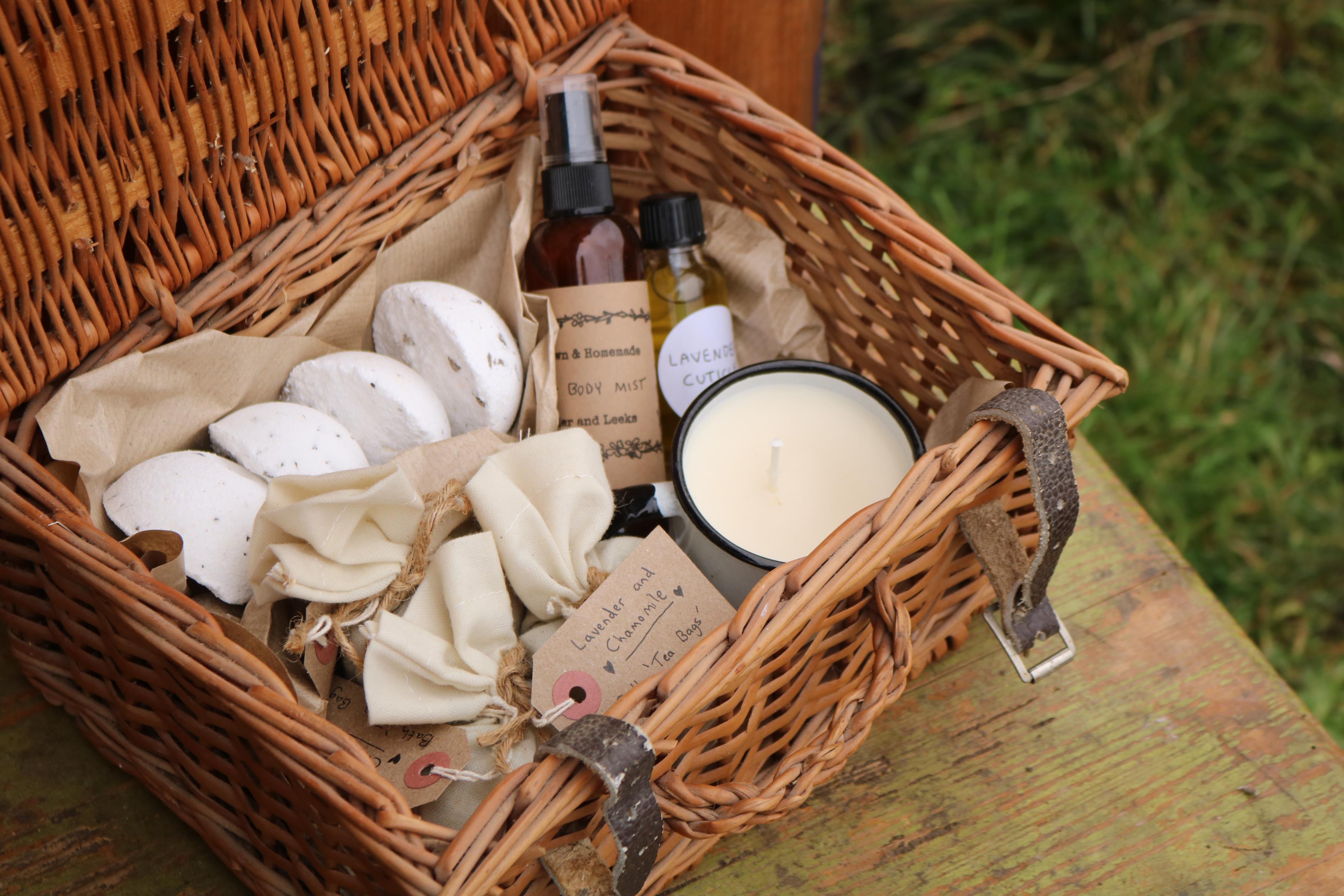 The one gift in particular that I wanted to share with you is this delightful little hamper containing handmade beauty products. I've been wanting to delve into the art of making beauty products for the past year now but time has been against me and I just couldn't fit it all in. However, it seemed the perfect thing to make for some of my female family members so last Christmas I made it my mission to make a handful of products and I was beyond excited!
The one website I used to gather all the ingredients and bits and pieces was The Soap Kitchen. It's bursting at the seams with everything you will ever need to start your venture into making beauty products, soaps and candles! There's also recipes and inspiration there too, it was my favourite website this Christmas and I might have spent a small fortune with them…
Of course I was able to use some ingredients that I had grown on my own plot too and that meant so much to me, to be able to put a piece of the allotment into these gifts meant the world to me and it sure felt good. My two small lavender bushes don't produce much but that bundle I harvested and dried throughout the Autumn proved to be very handy, plus it sure smelt amazing! One day I hope to use my homegrown chamomile, calendula and various other herbs too…
Here are the recipes I used to create my little beauty hampers:
My Beauty Hamper Recipes: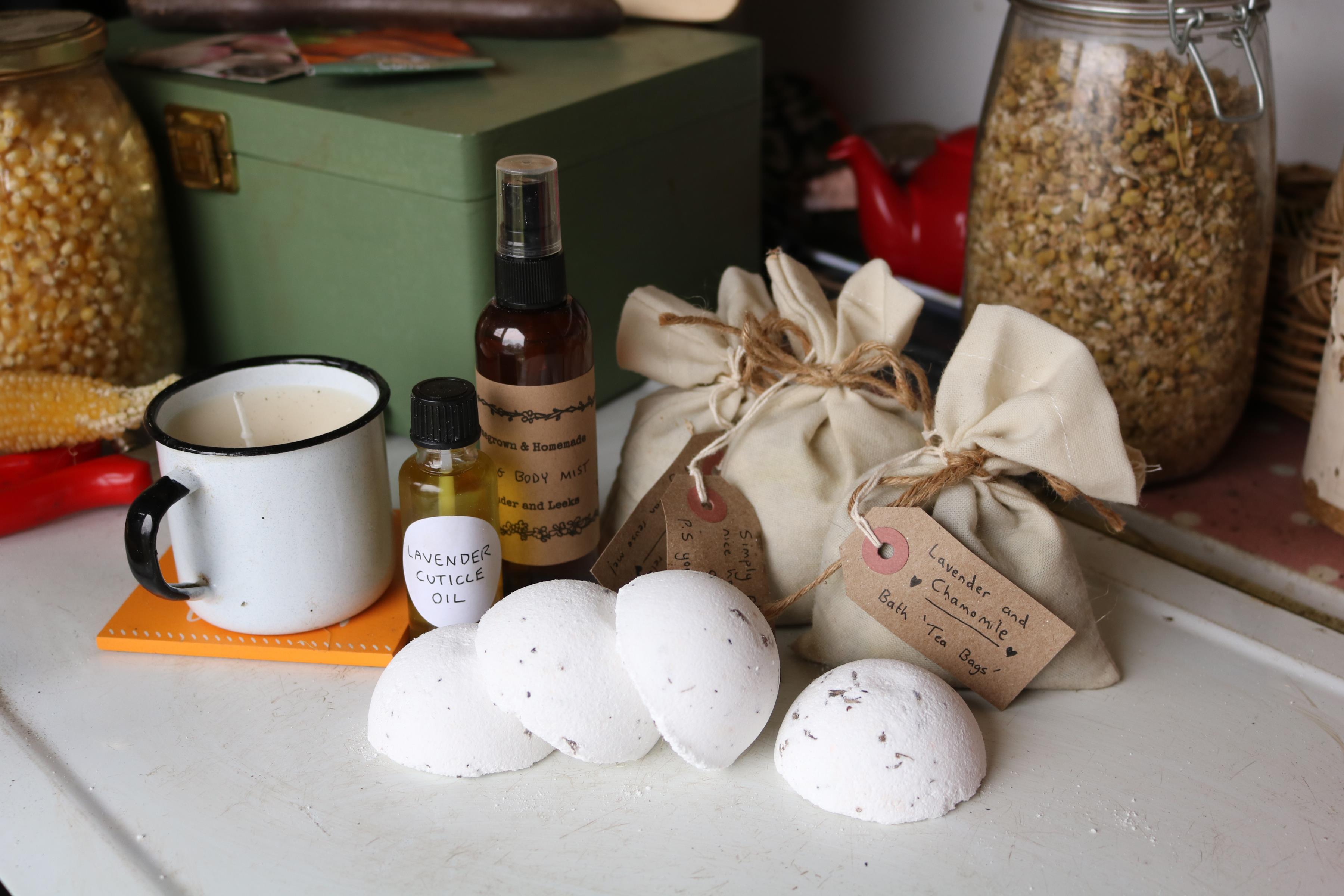 Lavender Nail Oil:
Ingredients:
400ml sweet almond oil
50g dried lavender buds
4 vitamin E capsules
Pour the oil into a bowl and add the dried lavender flower heads. Leave in a warm place for 2 days to infuse. Line a sieve with a piece of muslin and place over a jug. Strain the oil, pressing down on the flower heads to extract as much as possible. Once strained pierce the vitamin E capsules, empty the contents into the lavender oil and stir. Pour into cold, sterilised bottles and label.
Keeps for 4 months.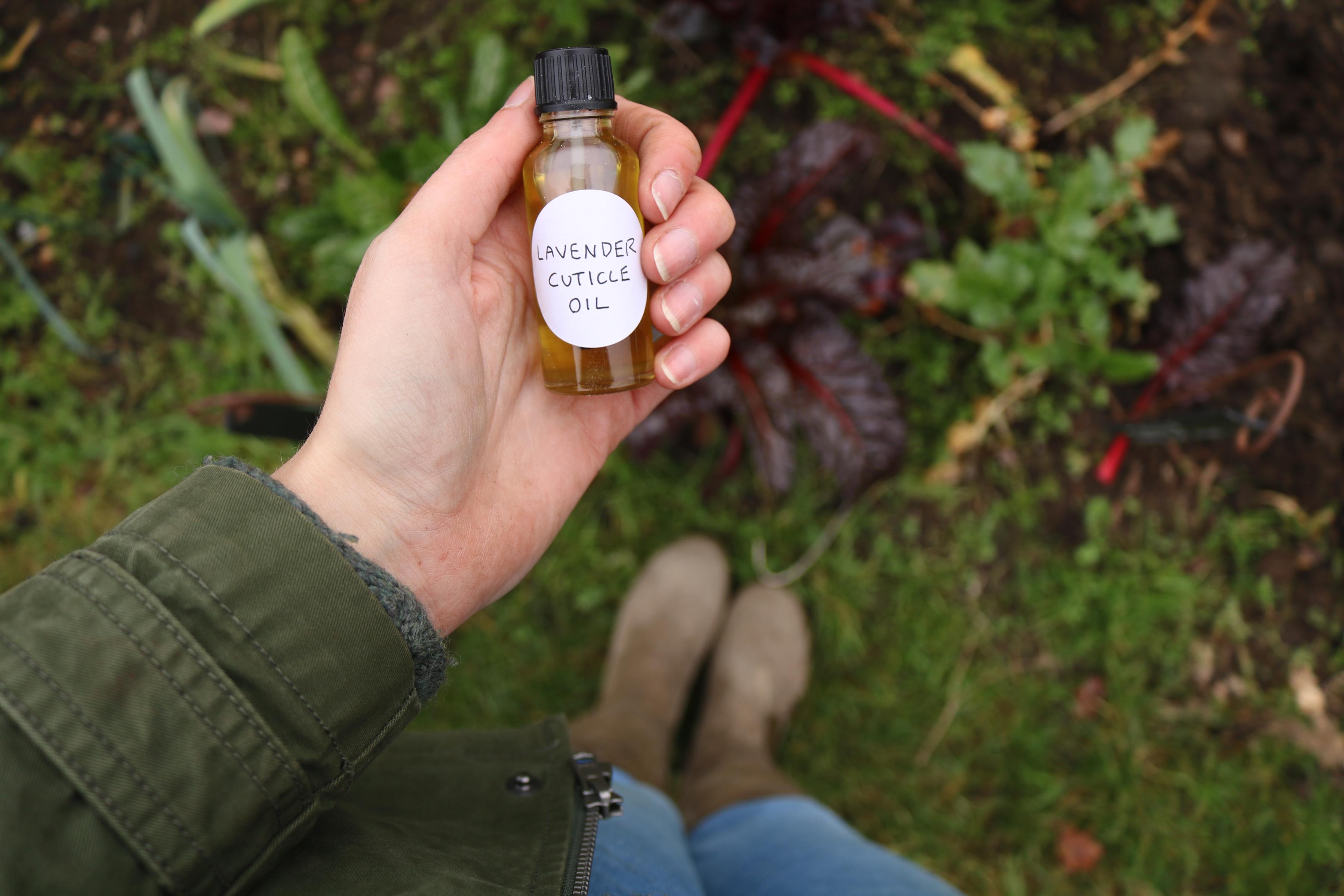 Essential Oil Body Mist:
Ingredients:
1 cup of distilled water
1 tbsp witch hazel
1 tbsp vegetable glycerin
20-30 drops of essential oil
Mix the witch hazel, vegetable glycerin and the distilled water together in a jug. Pour into the bottles and then add in the drops of essential oil, this is down to preference but I like my body mist smelling rather strong! Screw the lid on tight and give it a good shake.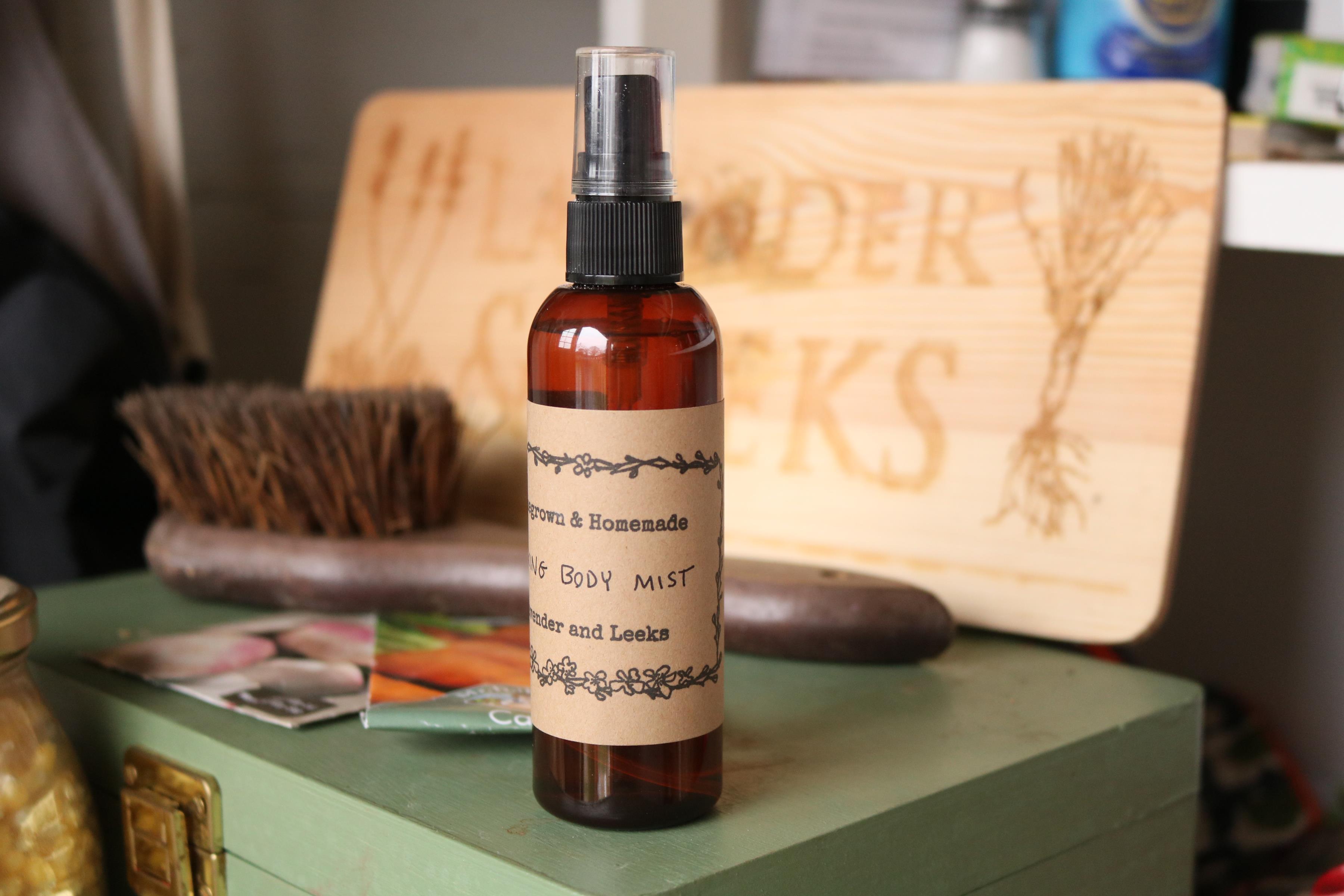 Herbal Bath Tea Bags:
Makes roughly 8 bags.
Ingredients:
1kg/4 cups of epsom salts
1 cup of dried chamomile flower heads
1 cup of dried lavender flower buds
16 drops of lavender essential oil
Mix the epsom salts, chamomile flower heads and lavender flower heads into a large bowl. Add the drops of lavender oil and give it all a good stir. Spoon the mixture into small muslin bags and secure them with a piece of twine or ribbon.
Simply place one bath 'tea bag' into your bath to enjoy the relaxation qualities of chamomile and lavender. Don't forget to re-use your little muslin bag!
Lavender Bath Bombs:
Ingredients:
500g bicarbonate soda
200g citric acid
100g SLS (Makes the bath water a little foamy and so silky!)
20-30 drops of lavender essential oil
Handful of dried lavender flower buds (additional)
Spray of witch hazel
Mix the bicarb, citric acid, SLS and dried flower heads together in a large bowl. Add the required amount of drops of essential oil to suit your needs. Lightly spray the mixture with the witch hazel until it starts to stick together in your hands, be careful though as you don't want it too damp! Push the mixture into your moulds and leave to dry for an hour before carefully removing them and leaving to completely dry over night.
Tip – Adding dried flower heads looks very pretty but can leave a bit of a mess in the bath tub afterwards, something which I'm not that fond of. So if you don't like clearing up afterwards simply leave the flower heads out of the mix.
Lavender and Rose Candle:
Makes 4 enamel cup candles.
Ingredients:
1kg candle wax (I used EcoSoya Q210)
10ml Lavender Essential Oil
25ml Rose Fragrance
Waxed Wick with Sustainer with a length to suit your container
Fill a pan up with the candle wax. Fill a second larger pan with roughly 3 inches of water and then place the smaller pan of wax inside so that it floats on top of the water. This will act as a double boiler.
Whilst your wax is melting get your wicks ready in your containers. You might want to use a hot glue gun to secure the bottoms of the wicks to the bottoms of the containers and use a skewer to hold the tops in place.
Melt the wax until it reaches 180 degrees and then remove from the heat. Add your essential oils or fragrances and then leave to one side so that the temperature decreases to around 150 degrees and then pour into your moulds. If you pour the wax into the containers when it's too hot then a sink hole will appear.
Leave to dry completely, remove the skewer from the wick and cut down to size.