I've just realised that I never officially announced that I'm getting chickens so here goes… I'm getting chickens! (can you tell that I'm a tad over excited!?)
I've always wanted chickens, I love the lifestyle and idealism of collecting eggs in the morning, letting the chickens roam the allotment and simply enjoying they're company. So when I checked the allotment rules regarding keeping chickens it said 'No birds or animals other than hens or rabbits shall be kept on the allotment garden(s).' I decided to write to the local parish council to see what they said on the matter and they basically said yes! I was over the moon! I started to look for a chicken coop straight away and fell in love with this rustic, second hand coop on Ebay and after days of waiting for it to end I managed to get it for a bargain price of £10.00! It needs a fair bit of work, a good clean and it is extremely heavy, it took 4 grown adults to carry it up the driveway but I'm determined to make it into a perfect little house for my future chickens.
I instantly knew that I need to take some weight off of the coop so that we could lift it a little easier, my allotment is at the back of the site with a 60cm wide pathway leading up to it so it would have been impossible for 4 people to carry the coop up to my lottie. Therefore we decided to take off the nesting box which would lessen the load but also gave me the chance to build a new one to put on the side of the coop. This would make my life a little easier as access to the side would be far better for me to collect the eggs. The nesting box is also being made so that it is removable so we can attach this part to to the coop once it is in position up the allotment. The original roof and the floor have also been removed and these will both be cut at home and then attached to the coop up the allotment.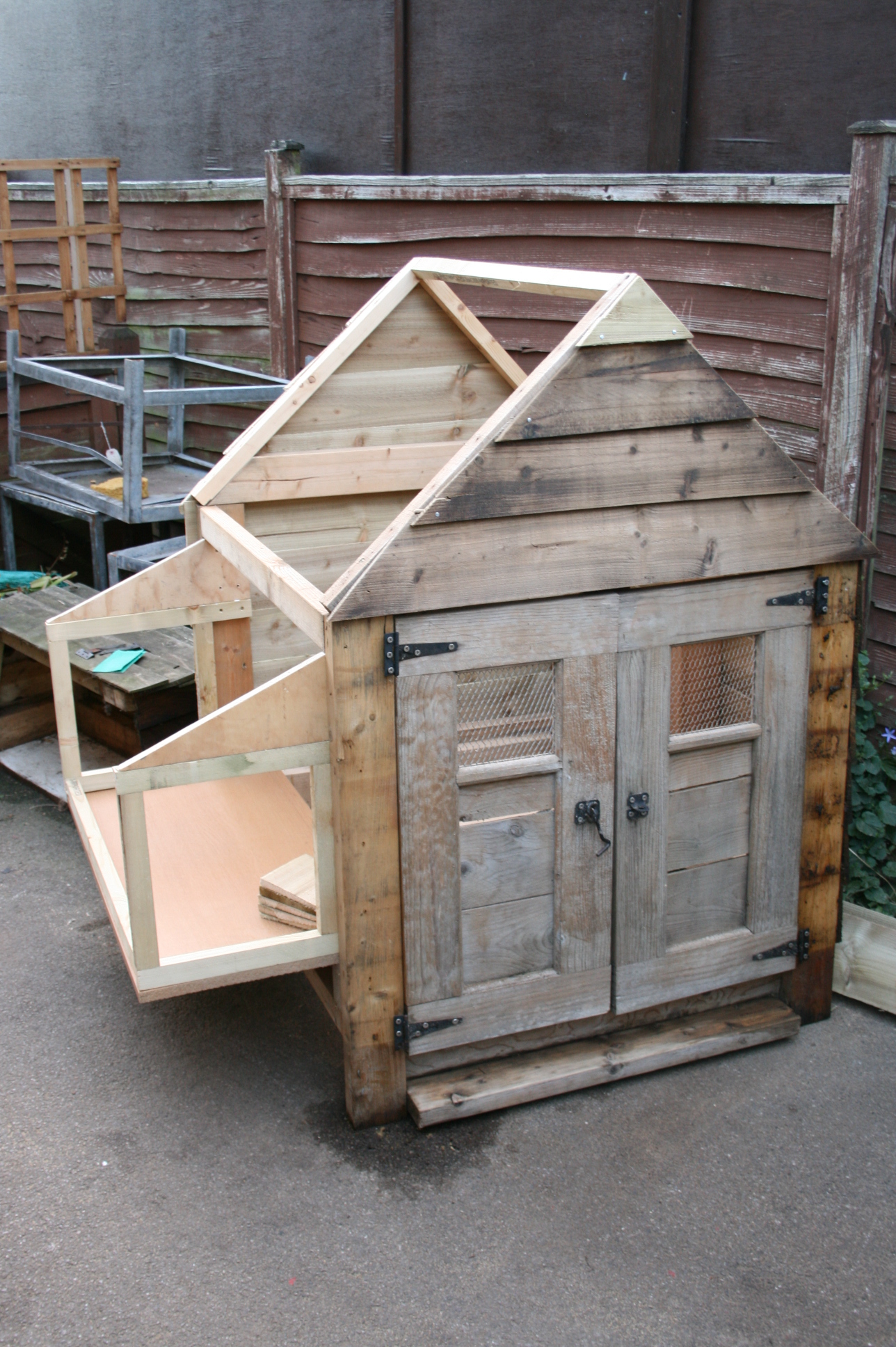 All that is left to do now is to finish cladding the nesting box, make a lid for it and add some bolts and locks to stop the foxes getting in. I also need to cut the floor and the roof to attach them later and I'm going to make a new roosting pole which will be removable so I can clean it easier. New bolts for the front doors and I'm even tempted to make either some little curtains for the windows, or make some small wooden shutters! Last but not least is the paint, I can't wait to see it all finished with a nice bright paint job, all I need to do is decided what colour!