I've always been a bit of a book addict and that doesn't stop when it comes to gardening! In fact my addiction is probably even worse… I'm a sucker for pretty photographs and I love looking at other people's gardens and allotments for inspiration. Two of my gardening hero's are Alys Fowler and Monty Don, I just adore Aly's fashion sense and her unique take on gardening and let's face it, who doesn't like Monty Don? My all time favourite book though has to be 'The New Homesteader' by Bella and Nick Ivins and I recommend it to anyone that dreams of owning their own smallholding one day. It has to be my ultimate dream garden and my go to book when I'm feeling a little down and need to dream big.
Of course there's just the pretty books too like the RHS Botany for Gardeners, the Handbook of Botanical Diagrams and the Observer's book of Wild Flowers. I told you I was a sucker for pretty books didn't I? I would love to study horticulture and I guess I do it through the pages in these books, that's just one of the magical things about reading…
I've also thrown in a cook book because I am just so in love with it and wanted to share it with you all! It's the Garden to Kitchen Expert and it is the best cook book for gardeners, it's so easy and simple to use and jammed packed with delicious recipes. When I have a glut up the allotment this is the first book I look in and 8 times out of ten it has the perfect recipe to use. It tells you how to harvest, store and cook vegetables, fruits and even herbs and is my go-to cookery book. Although I am a little bit in love with Nigel Slater's Tender series of books but I won't go into that here..
Last but not least I just want to mention one last book and that just so happens to be my very own allotment notebook. I carry it everywhere with me and have done for the past 2 years. It contains everything I do up the allotment from when I sow seeds, my plans and the weights of my homegrown harvests. I'll admit that it isn't anything special, just a plain paged notebook with a handmade leather removable cover, but it means the absolute world to me and I would be lost without it.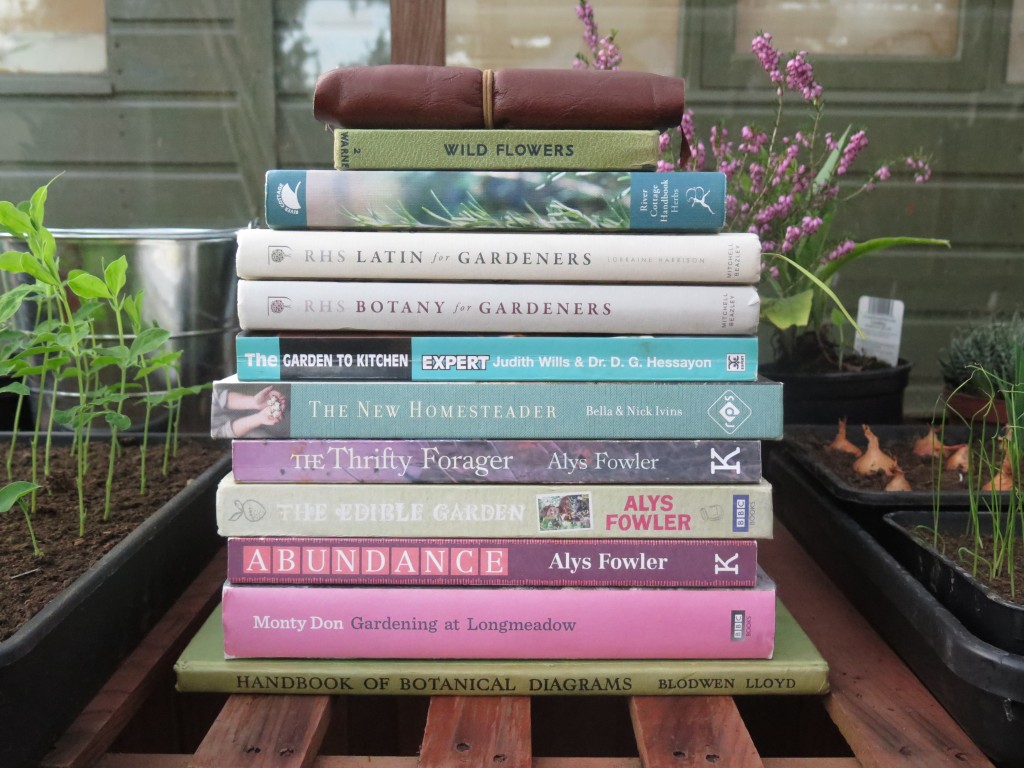 To celebrate World Book Day I've decided to share a few of my most favourite gardening books with you all
My personal allotment notebook.
The Observer's book of Wild Flowers.
River Cottage Handbook – Herbs.
RHS Latin for Gardeners.
RHS Botany for Gardeners.
The Garden to Kitchen Expert – Judith Wills and Dr D.G.Hessayon.
The New Homesteader – Bella and Nick Ivins
The Thrify Forager – Alys Fowler
The Edible Garden – Alys Fowler
Abundance – Alys Fowler
Gardening at Longmeadow – Monty Don
Handbook of Botanical Diagrams – Blodwen Lloyd