It's that time of year again and one that I am super excited about! The trough is one of my favourite additions to plot 15c and every year I look forward to the sea of blooms which appear from March to May. Last Spring however the tulips suffered from a disease called Tulip Fire; the growth was stunted, the leaves mottled and some of the buds simply rotted or bloomed with spots all over the petals…. It was a complete and utter disaster! All those beautiful bulbs I had purchased and I never even got to see them in all their beauty. Therefore this year I decided to take drastic action!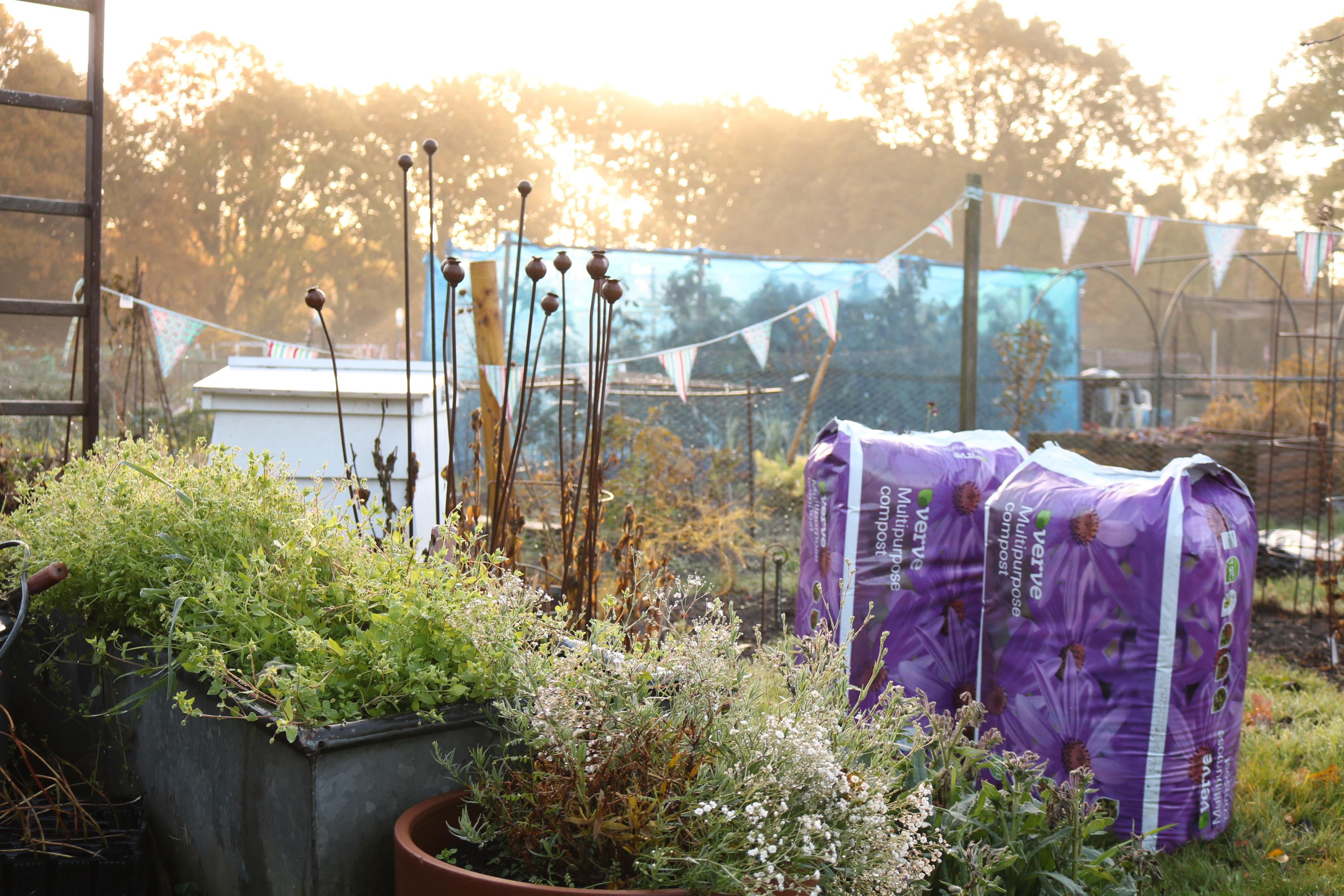 The compost inside the trough was in fact 4 years old and had been in there since the very beginning, it should have really been changed after 2 years but it was one of those huge jobs I was putting off. So today was the day that I made the effort and put the time in to create the perfect container for all my brand new bulbs to grow inside. I woke up extra early as rain was forecast and I wanted to get so much done before it came to ruin the day. First on the agenda was to weed the trough and then remove the narcissus bulbs which I wanted to keep. These bloomed so beautifully last year and I fell madly and deeply in love with daffodils, I have plans to plant these around the allotment to bring even more joy in the Spring. Next came the herculean task of digging out all the old compost into a wheelbarrow and then emptying onto a spare patch of soil on the vegetable beds. Once a bed is empty I'll spread the spent compost over and then mulch with manure, but that's a task for another day. I then re-filled the trough using some standard, cheap compost. The reason for choosing these was simply because the trough needs 500 litres and this was all I could afford right now. I'll mulch the entire trough with some of my new Dalefoot Composts double strength, potash rich compost in the Spring for an added boost though.
Next came the fun bit, laying down all my brand new bulbs! A job which was made easier this year by filling the trough halfway and then simply laying all the tulip bulbs in neat rows. Previous years I had used a dibber to plant my bulbs out which is perfectly fine but seeing as I was emptying and filling the trough anyway this way made a lot more sense. After half the trough was filled with all the tulip bulbs I laid an extra 2 inches of compost on the entire container and then continued laying down my chosen Narcissus bulbs before laying another 4 inches of compost to finish the trough off. So overall the tulips were planted 6 inches deep and the Narcissus were 4 inches deep with each bulb being 4 inches apart. In my original plan I had Ranunculus planted at the far end of the trough, however my drawing was off scale and in real life there was only a small gap left for them. So instead of planting a mere two rows of Ranunculus I decided to pop in an extra two rows of Narcissus instead and chose the variety 'Sweetness'. I have plans to pop all my Ranunculus inside another container so they won't be wasted at all, I just thought they would look better altogether and now the trough will simply be remained the Tulip and Narcissus trough!
Whilst I was busy planting out the trough I decided to plant out my new Alliums too seeing as they will be growing right in front of the trough next year. They'll join the two bunches of Giganteum Alliums which I grew for the first time last Spring, another bulb which I have fallen completely head over heels for. The new Alliums are called 'Mount Everest' and are a white variety, they grow to 90cm in height and I planted them in two groups of three 8 inches deep and 8 inches apart. All that's left to do is plant another container up with a bulb lasagne, find a home for 100 Crocus bulbs and plant up those Ranunulus too… but that's a job for another day!
I am so excited to see all these bulbs to bloom and planting them out is one of my favourite jobs to do. You aren't just planting bulbs, you are planting hopes and dreams too and whilst we start hibernating for the Winter I for one will be dreaming of the day they bloom and waiting with excitement!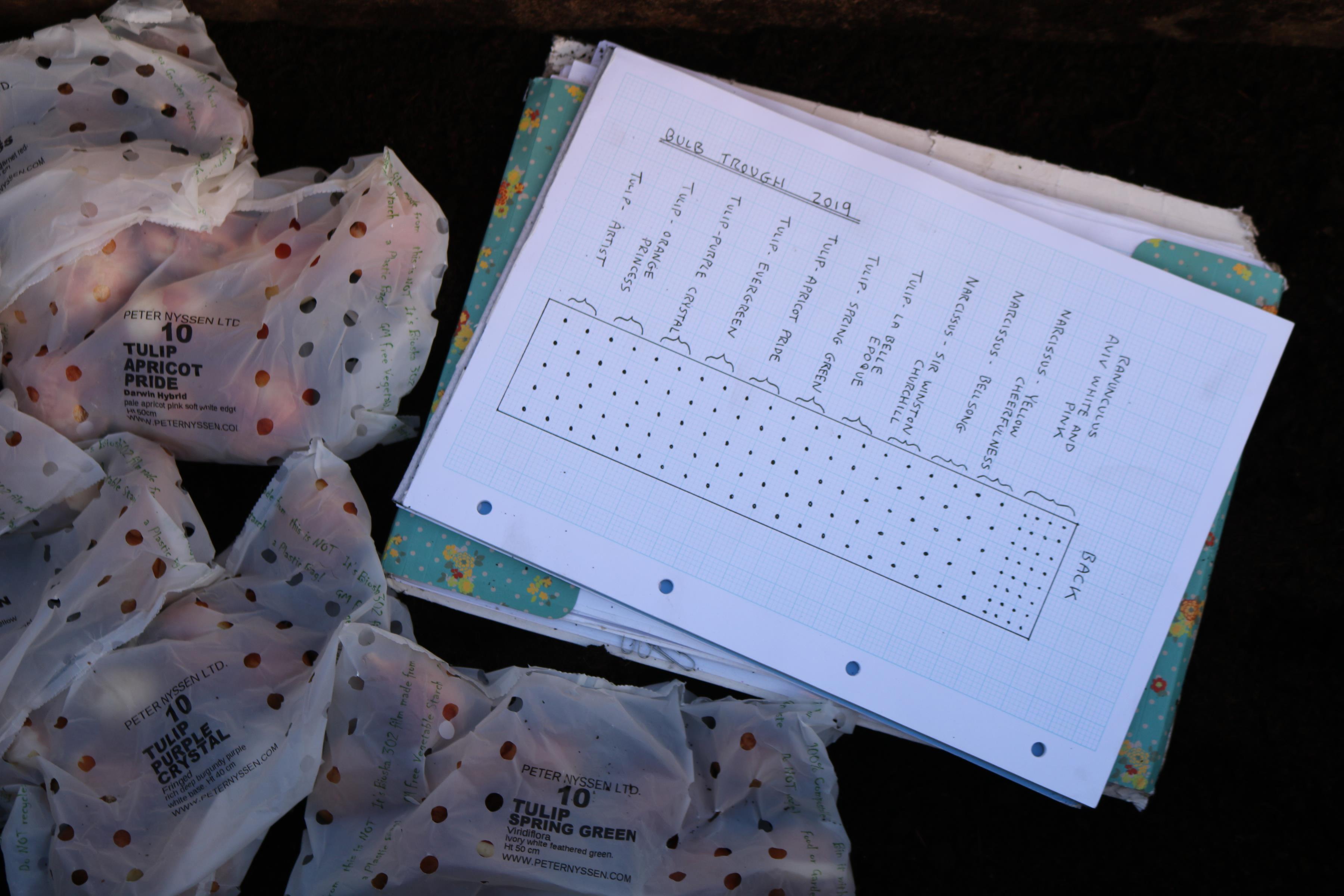 Here are the list of bulbs I have chosen to grow, all purchased from Peter Nyssen:
Tulip Artist
Tulip Orange Princess
Tulip Purple Crystal
Tulip Evergreen
Tulip Apricot Pride
Tulip Spring Green
Tulip La Belle Epoque
Narcissus Sir Winston Churchill
Narcissus Bellsong
Narcissus Yellow Cheerfulness
Narcissus Sweetness
Ranunculus Aviv White
Ranunculus Aviv Rose
Allium Mount Everest
Crocus Sieberi Spring Beauty
Crocus Chrysanthus Cream Beauty
Old Narcissus Bulbs:
Narcissus Cheerfulness
Narcissus Sophie's Girl
Narcissus My Story
P.S There's two new videos over on the Youtube channel where I unbox my bulb order and also plant them out too!