I love this time of year, there's so much hope and excitement in the air as I'm busy planning next years growing season. For me there's nothing more exciting than planting out Spring bulbs when the rest of the allotment is starting to die back and this Spring the display is going to be bigger and better!
I've been picking up Spring bulbs at a few of the garden shows we've been selling at and of course there were some varieties that I found online and couldn't resist! So overall I accumulated around 116 bulbs to plant out up the allotment and I knew exactly where they were going to be planted.
This year the tulip trough is being renamed, instead of solely growing tulips I'll also be adding some narcissus and ranunculus in to the mix and it's going to look beautiful. During the early part of Summer I removed all the bulbs from the trough, a few of them weren't blooming anymore and since some tulips are now being treated as annuals I decided a fresh start was in order. I added a bag of shop bought manure for much needed nutrients and marked out where the rows where going to make my life a little bit easier. I use a dibber to plant my tulips and it's one of my favourite tools, it makes light work and when you have this many bulbs to plant out you'll be thankful for tools like this! I plant them at 8 inches deep and 4 inches apart.
I also made a quick plan of the trough when I was in Wales a few weeks ago because I'll admit… I love making plans and being organised! I've decided to grow a few of my old time favourites including 'La Belle Epoque', 'Spring Green' and 'Brownie'. Then there's the new varieties which I have fallen in love with such as 'Hermitage', 'Green Bizarre', 'Hocus Pocus' and 'Queen of the Night'. Plus a rather novelty variety which I just couldn't leave out… 'Ice cream', as you can guess, looks very much like an ice cream and I cannot wait to see this one bloom.
Next into the trough are the Narcissus, now I'm not one for those bog standard yellow varieties so instead I've gone for white blooms. I grew 'Cheerfulness' last year in the bulb lasagne and it has the most stunning pure white multi headed blooms with 3 flowers on each stem. I've also chosen 'My Story', a white head with a frilly pink centre and 'Sophie Girl' which yet again is white but has an apricot centre. These were planted 4 inches deep and 4 inches apart.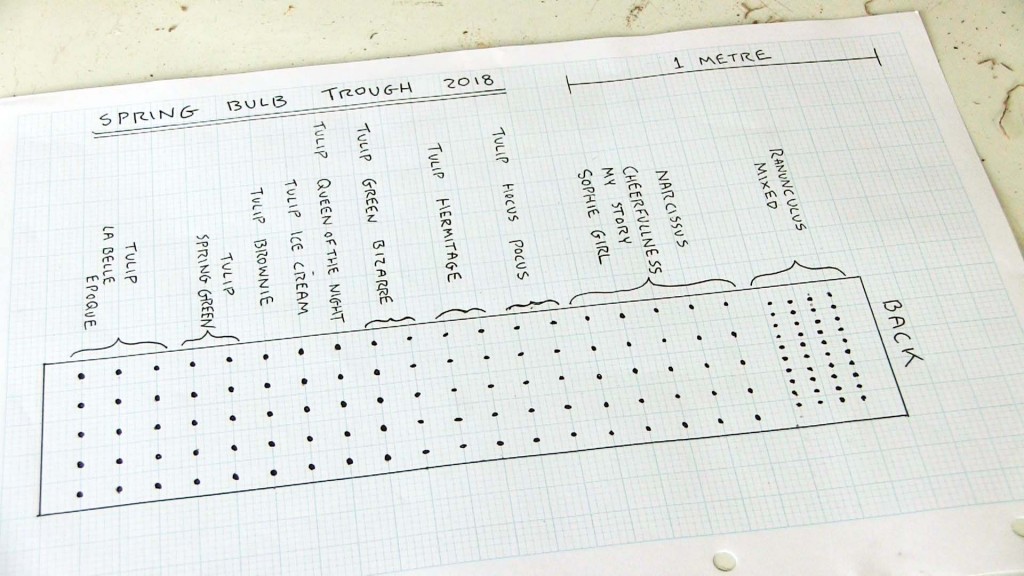 A new Spring bulb for me this year is Ranunculus and I've planted a patch at the far end of the trough. These were a cheap packet of mixed colours from a garden store but I'm thinking if they grow well then next year I'll source some prettier varieties. I soaked them overnight before planting them out 2 inches deep and 4 inches apart.
Another new bulb that I've wanted to grow for a while now are some 'Giganteum' alliums. I have a small patch of  'Sphaerocephalon' allium already in the flower patch but I love them as much as the bees do, in fact I've been meaning to plant more alliums for a few years! As most of you know I adore tall growing flowers and these beauties will be growing to atleast 120-150cm in height with flower heads that reach 20cm in diameter. I've planted two sets of 3 in front of the trough 8 inches deep and 8 inches apart. I'm thinking they will look beautiful against the galvanised trough and add some height to the flower border without constricting the view of the tulips.
Last but not least I planted some spare Narcissus 'My Story' and 'Sophie Girl' bulbs into two patches of soil near the allotment entrance along with some crocus. The first year I had my plot I planted some yellow narcissus here and loved walking up to my allotment seeing those flowers greet me, they are after all the epitome of Spring.
I for one can't wait to see all these bulbs bloom in the Springtime, I'm sure the wait will be worth it…
P.s head on over to the Youtube channel or click on the 'Video' link in the menu to watch me plant all these bulbs!