The weekend did not go to plan at all… A peek at the weather forecast at the start of the week told me Saturday was going to be cloudy and Sunday would have heavy rain. Therefore I made plans to head up the allotment on Saturday to film my plot plan video and to start removing that pile of weeds on the brassica bed only to wake up to rain… It was that damp kind of rain that seems to get everywhere and it was persistent the entire day. Not that I let that stop me entirely, I grabbed my plan, seed packets and camcorder and headed up the allotment to take shelter in the shed, I wasn't going to let the rain spoil my day!
I managed to not only film the planning video but I decided to try something a little bit different too. I've been wanting to post weekly vlogs for a while now, a more relaxed way of keeping you all up to date with what's been happening and a much easier way of filming. Not that I'm going to stop doing my other videos, there will still be recipes from the shed and lot's of gardening videos/updates but I thought this would be a better way to share stories and products I've purchased or recommend. In this particular video I show you all a few of the weeks purchases including a vintage enamel teapot, my allotment photo books, a new sign for the shed which I was gifted at Christmas and I'll be recommending one of my favourite books too. Plus I make myself a nice hot cup of chamomile tea in my favourite mug!
The video is now live over on Youtube and here's a link: https://www.youtube.com/watch?v=eWYgOUHKGIY&lc=UgzKQ3GrgWaNX8yabg54AaABAg
Let me know what you think and if you like it or not? If the verdict is good I'll be aim to film them weekly or fortnightly, all depending on time of course.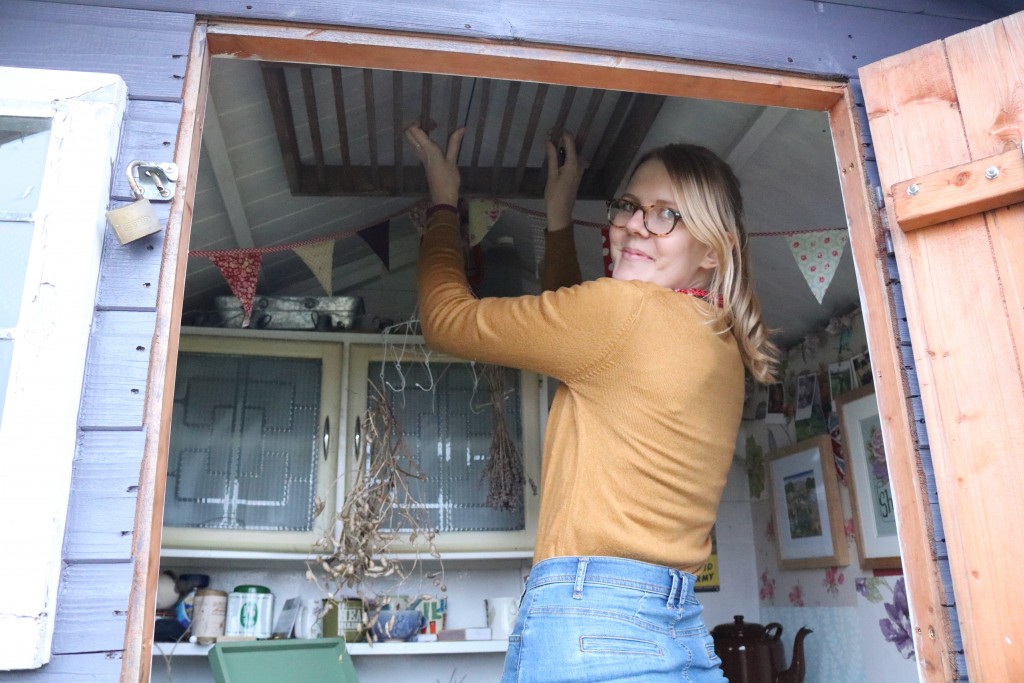 Also I just wanted to quickly tell you all about my new herb rack, I mention it on the video but I'm so excited about it I just wanted to share it here as well! I picked the wooden tray up at a market for £5.00 and funnily enough I've been meaning to make something very similar for a while now. I'll be lining the bottom of the tray with fine wire mesh and then it will hang or clip up into the roof of my shed. It fits perfectly and there's still ample room above my head to walk and stand underneath it! Throughout the Summer freshly picked herbs and edible flowers will be placed on the tray and then stored out of the way to air dry before I use them in herbal teas and to make products out of. It's something I'm so excited about this year and I can't wait to start growing!
P.s Here's a peak at my allotment plan too, the video and blog post all about my plans will be posted later this week!