It seems like I have been waiting patiently to get sowing some seeds for ages now but the time is finally here and Spring is just around the corner. Unfortunately I don't have a green house due to lack of space on the lottie and at home so my seedlings have to take up every windowsill area in the house! I am hoping to build a coldframe using remnants of my shed which had to be cut down, I am just waiting on finding an old salvaged window and because I am extra fussy this is taking longer then I expected.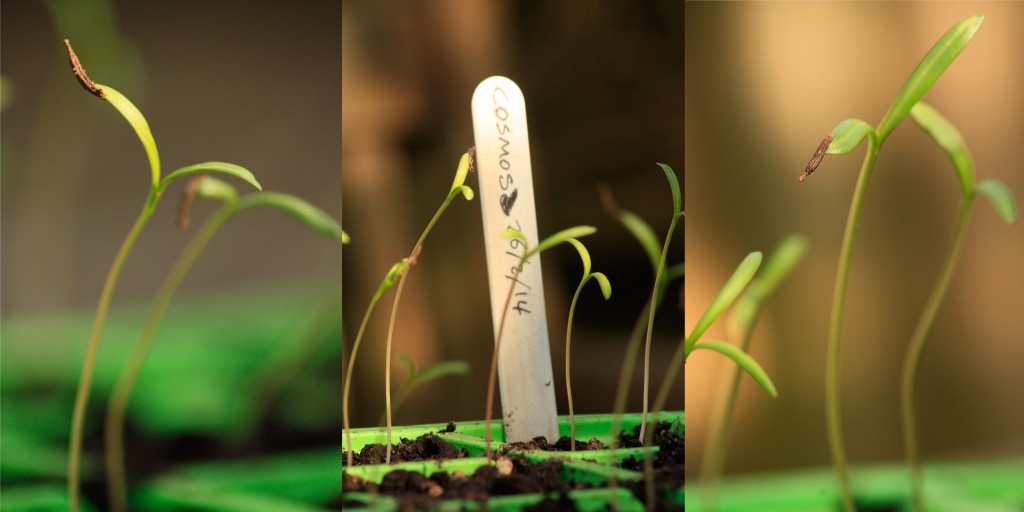 I planted some Cosmos Sonata Dwarf seeds on the 26th of February and they have popped up beautifully, some even have their seed hats still on. However some of them didn't germinate so I am lucky that I decided to plant two seeds per module, although I still think I'm going to be over run with cosmos flowers (not that I'm complaining!) My potatoes have also been chitting away nicely for around 3 weeks now so they are ready to be put in the ground later this week (they remind me of little aliens with furry antennas!)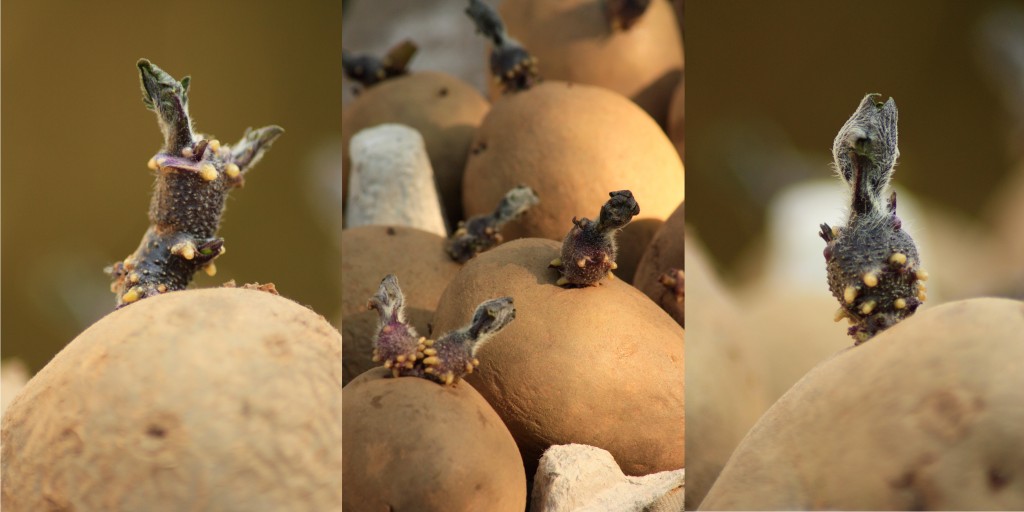 Now I realise theres a whole massive debate about whether to chit potatoes or not to chit them. However, I brought my seed potatoes in February and decided to place them in a empty egg box and store them ontop of my fridge. This infact gave me something to do in February when lets face it, there is hardly anything for a gardener to do but sit and plan. My Dad also chits his potatoes (as does Monty Don!) and I have read that a chitted potato grows more faster, it ages it and therefore you should get a good crop of potatoes earlier which is meant to be very good for early potatoes in particular. I personally see no harm in chitting a potato when they are really already chitting away in the local garden centre before you buy them, but instead of knobbly, small and dark shoots they are producing those horrible, long and pale shoots!
March is going to be a busy month with lots of seeds being sown. Broccoli – Calabrese Autumn Spear, Brussel Sprouts – Bedford Winter Harvest, Mars Pumpkins and Munchkin Pumpkins, Chives and Garlic Chives, Dill and Ridolfia Segetum will all be sown this month with even more seeds being sown in April. The house is going to be packed with trays and pots but hopefully it is going to be worth it, and theres always something special about the wonder and hope one little seed brings, it really is quite magical to watch 🙂