A little bit later then planned but here they are, my Dad's plot 2b allotment plans!
Here's a quick little history of plot 2b: It's been my Dad's since 2014 and measures 13 x 15 metres, it's actually a double sized plot on our site and is on the opposite side to mine (we can wave to each other when tea is ready!) He once owned the plot next door in 2012 which was half the size but put his name down for a bigger one so he could grow more. He's very much a traditionalist and grows the standard vegetables that we all love to eat and prides himself on neatness.
There's been a slight change over on this plot, if you can remember the main layout consisted of 6 vegetable beds with a 3 year crop rotation and in between each bed was a perfectly manicured grass path. These paths have now been removed leaving two even larger beds. The purpose of creating these two beds was to make life a little bit easier and with the arrival of a new rotavator last October meant digging over these areas would be light work. The two patches still have a three year crop rotation with brassicas, legumes and roots separated by imaginary fences. Of course the removal of the paths also freed up extra soil to grow more crops in and will allow more time spent on weeding then maintenance.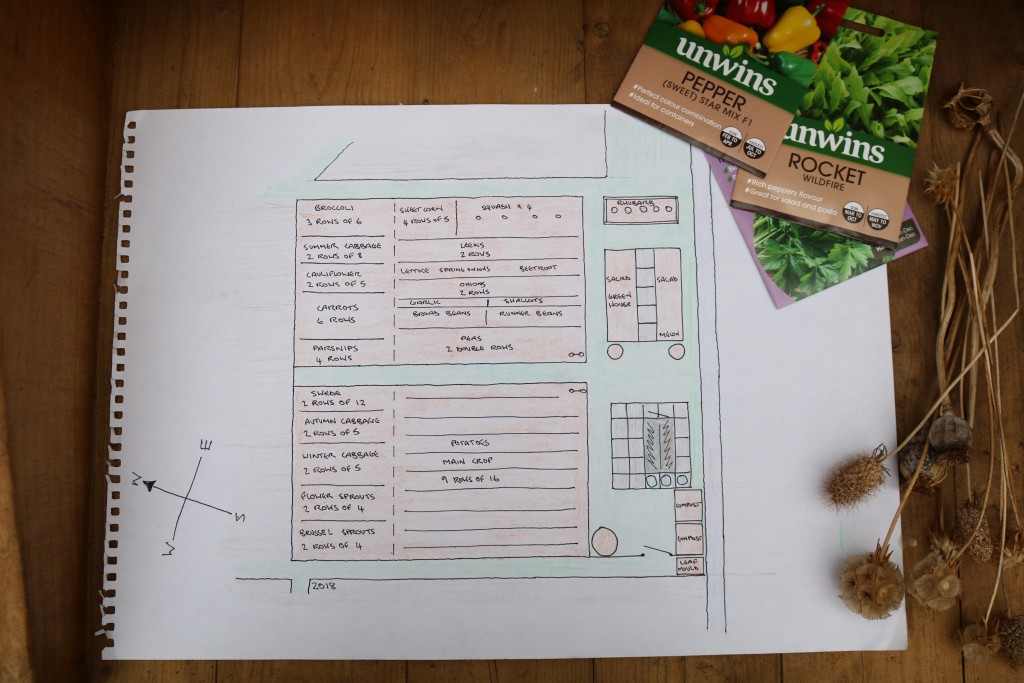 At the far end of the plot sits the shed with a small paving area and a bench to sit on and sip tea whilst admiring the allotment. The shed has guttering which leads to three water butts and there's a rather shabby looking bird house and some trellis where a clematis is happily growing. This trellis serves a purpose and that is to shield the seating area from the compost bins which sit at the furthest corner of the plot. There's two compost bins here which get turned into each other and a leaf mould bin containing beautiful mulching material. There's also a large galvanised container here and I always grow some spare annual flowers for my Dad to plant up, last year he had a huge borage and the bees absolutely adored it! Various other containers are situated around this area and have been planted with bulbs and annuals.
There's plans to build a large greenhouse facing the shed doorway, it's been sitting in pieces on the plot for 2 years now but we've just never found the time to make it. He still needs to decide what to place the greenhouse frame onto and then I'm pretty sure it wouldn't take long to build. It's always one of those jobs that gets pushed to the back but I'm so determined to help him put it up once I get my digging done… Inside the greenhouse there's plans to grow salad greens and a melon. The greenhouse at home houses tomatoes and cucumbers and you can't grow melons and cucumbers in the same place. Behind the greenhouse lies the rhubarb raised bed in which sits 5 established rhubarb crowns. There's a rhubarb forcer which will be used to force once plant and then be moved down the lie every year to allow the previous crowns to rest and regain themselves.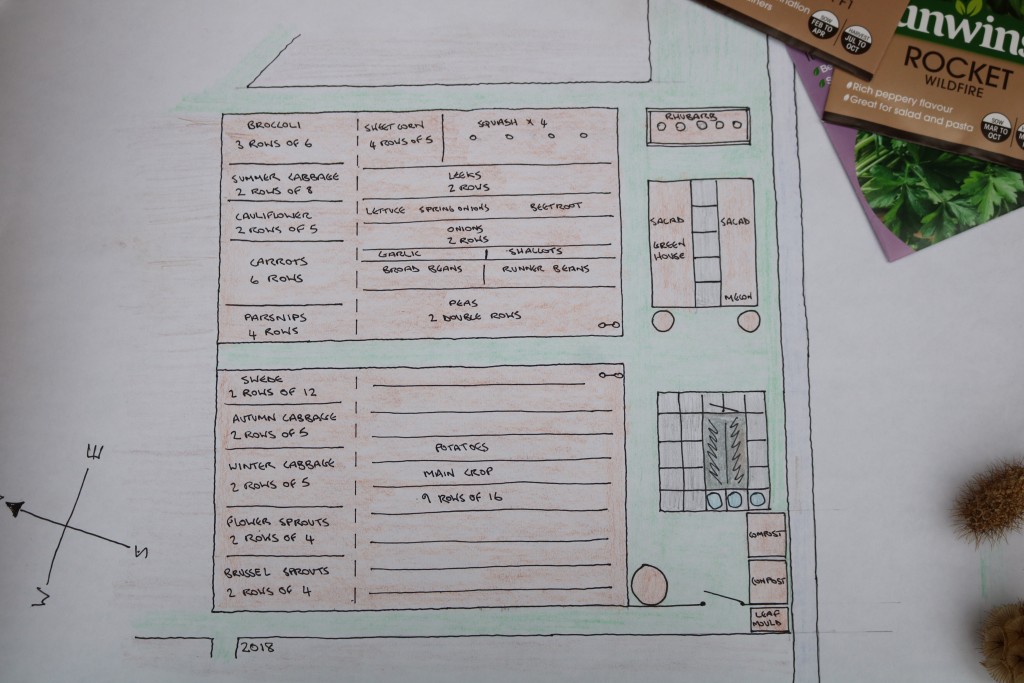 The two large beds have been split into the brassicas, legumes and roots and have a 3 year rotational crop. The brassica bed runs along the back of the two large areas and will consist of broccoli, summer cabbage, cauliflower, carrots, parsnips, swede, autumn cabbage, winter cabbage, flower sprouts and brussel sprouts. Both the parsnips and carrots have been placed here to free up the entire root bed to be used for growing potatoes. We eat a lot of potatoes in our family which is why my Dad always grows the main crop and I grow a smaller selection of salad potatoes. Last but not least is the legume bed and currently growing away in here over winter are some broad beans and garlic but joining them will be some peas, runner beans, shallots, onions, beetroot, spring onions, lettuce, leeks, sweetcorn and butternut squash.
When I asked him what he was most excited about growing he simply said 'everything!'. You see last year was a bit of a disaster for my Dad, he didn't get to spend as much time as he wanted up the allotment due to all the garden shows and things didn't go to plan. He never even had any time to plant out his potatoes or any brassicas! So this year he's really looking forward to getting his hands dirty again and he's spent a long time planning and getting organised. He's pretty pleased that his allotment is near enough ready for the growing season ahead, it just needs another run through with the rotavator and it's ready to be planted up!
Vegetables:
Autumn Cabbage – Golden Acre Primo
Beetroot – Boltardy
Broad Beans – Masterpiece Green Longpod
Broccoli/Calabrese – Ironman F1
Brussel Sprouts – Bedford
Cauliflower – All The Year Round
Carrots – Autumn King 2
Cucumber – Byblos F!
Flower Sprouts – Kalette
Garlic – Provence Wight
Leeks – Musselburgh
Lettuce – Lollo Bionda
Lettuce – Buttercrunch
Onions – Sttutgarter giant (sets)
Parsnip – Gladiator
Peas – Hurst Greenshaft
Potatoes – Maris Piper
Potatoes – Cara
Runner Beans – Moonlight
Shallots – Golden Gourmet (sets)
Spinach – Apollo
Spring Onions – White Lisbon
Squash – Hunter F1
Summer Cabbage – Greyhound
Swede – Ruby
Sweetcorn – Swift
Tomatoes – Alicante
Winter Cabbage – January King 3
Flowers:
Cosmos – Mixed
Zinnia – Queen Red Lime and Zinderella Peach
Scabious – Black Knight
Poppy – Lauren's Grape and Lilac Peony
Sunflower – Sonja
Calendula – Indian Prince and Touch of Red Buff
Sweet Peas – Incense Mix