It's no secret that I love a good plan and ever since November I've been busy drawing and planning for the growing year ahead. It's one of my favourite things to do during Winter and there's no better excuse then to sit inside by the fire with a hot cup of tea when its blowing a gale and absolutely pouring down outside.
Luckily for me I had some spare time down in Wales to really finalise my plan and I've been drawing, sketching and writing everything down… and I mean everything! This year I've also created a spreadsheet of both the vegetables and the flowers that I'll be growing this year. These include the varieties, the quantity or number of rows, when they need to be sown, planted out and also harvested. Both me and my Dad are trying to be as organised as we can be before the garden shows really get into full swing, once April hits us our time up the allotment will be limited and we want to make sure we are on top of things. Last year everything sort of got out of hand and things were either late being planted out or not planted out at all! The spreadsheets will give us that extra knowledge and a timeline of when everything needs to be done, so hopefully the allotments will benefit from our super organisational skills!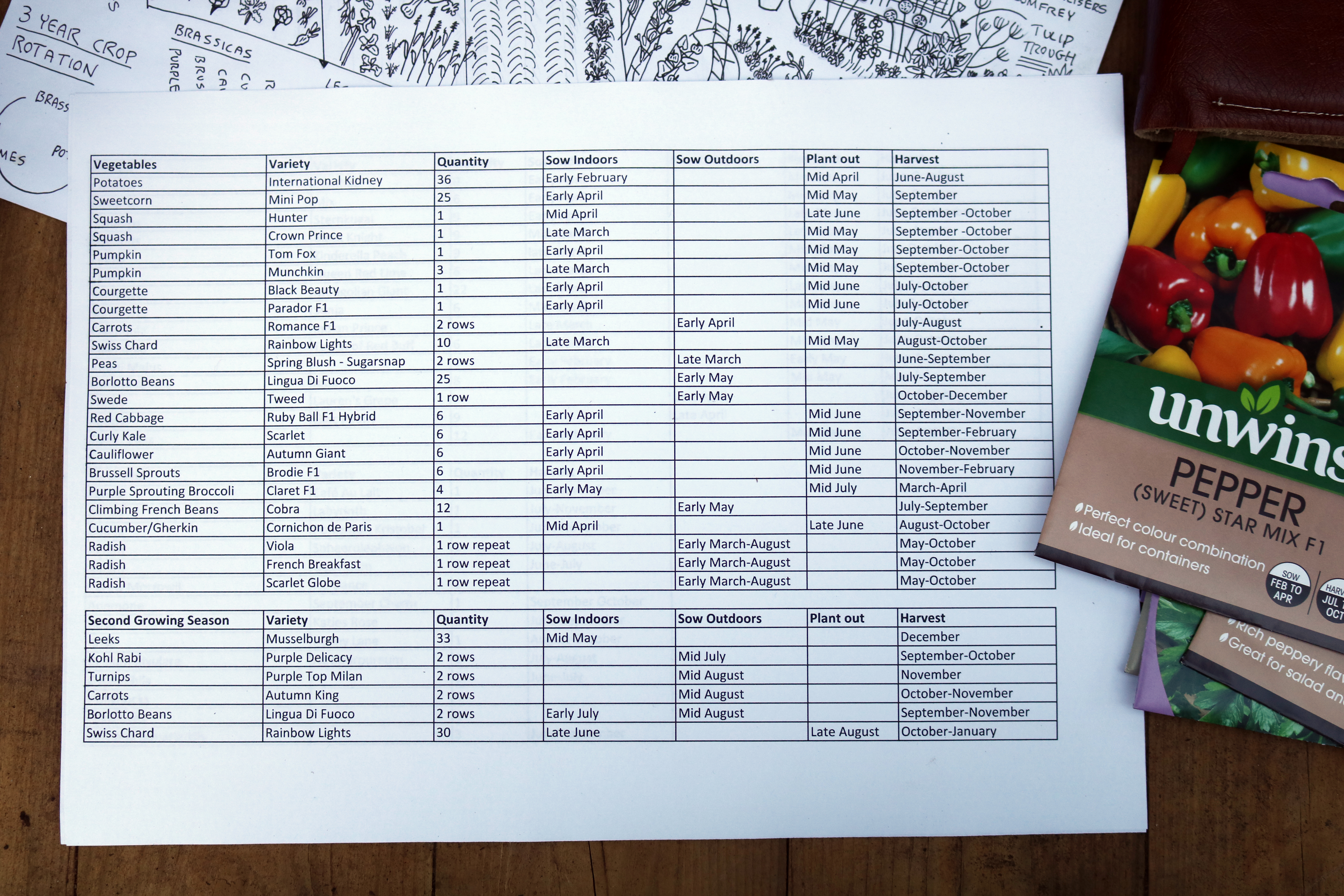 Let's begin with the layout of plot 15c… It's a very small plot, measuring only 12 metres by 7 metres deep so I need to find the best ways to fit in as much as possible! It means a lot of vertical growing as well as just growing one row of the majority of vegetables I've chosen, that way I can fit in more types or varieties of veg. I know that I'm never going to be completely sustainable so the allotment for me is a place to relax, de-stress and to grow as much food (and pretty flowers!) as I possibly can whilst having fun at the same time.
I split the plot into 7 main areas; there's the entrance/archway, the vegetable beds, the fruitcage, the wildlife patch, the shed, the allotment care area and the flower patch. For some reason I've always split the allotment up like this and somehow it makes it seem bigger and easier to manage (Plus I'm a little bit weird and feel the need to give everything a name!)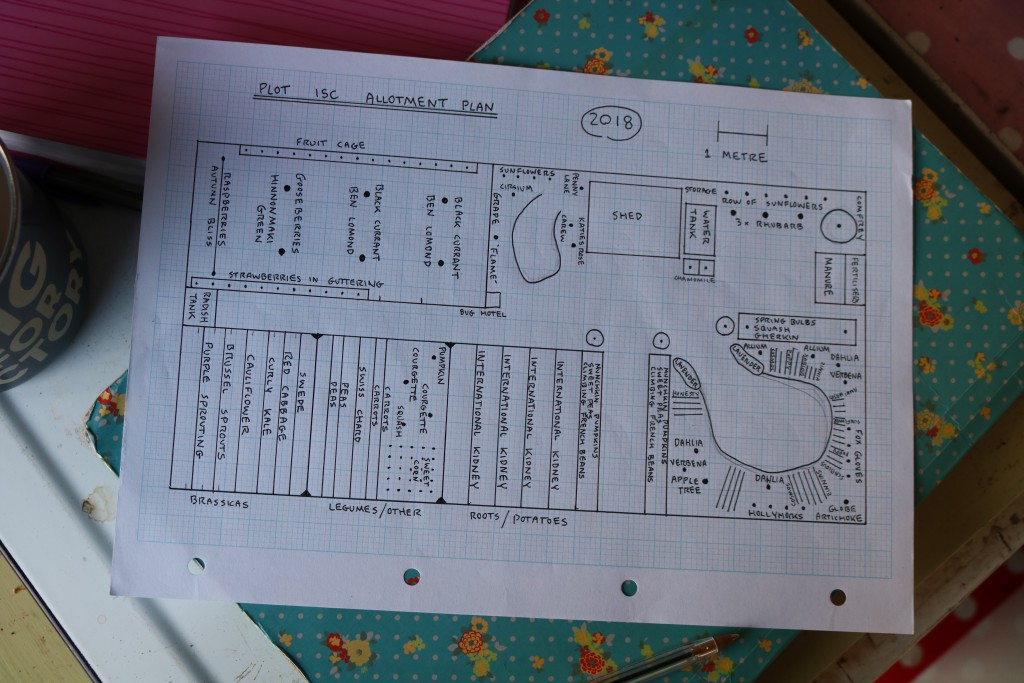 The fruitcage is one of those areas that should never change, at least not for a while. It is now completely netted to protect the berries from the birds whilst allowing the bees inside to pollinate the flowers, all that is left to do is make the door. Inside the fruit cage is a row of Autumn fruiting raspberries called 'Autumn Bliss', 2 'Hinnonmaki Green' gooseberry bushes and 4 'Ben Lomund' black currant bushes. So far the rapsberries have been the best producing fruit and one of my favourite harvests from the plot. There's also a 2 year old grapevine called 'flame' growing up the side of the fruitcage but it will be a couple more years until I can actually harvest from it. It's a hardy red, seedless variety and so far it's growing brilliantly.
My one and only plan for the fruitcage is to add some strawberries, these will be planted in guttering and fitted along both sides of the cage. I just need to make sure these are watered as the shallow depth of soil will dry out quicker than usual.
The vegetable beds are split into three separate beds for a three year crop rotation and they are the brassicas, the legumes/other and the potato beds. Each bed only measures 3 metres deep by 2.5 metres wide which explains why the root bed is completely made up of potatoes. This bed only fits in 4 rows of my chosen early salad potato called 'International Kidney'. I've grown this variety for the past 4 years and I simply love them, especially served in the Summer with lots of butter and mint!
The legume/other bed is quite a mixture simply because I didn't want a bed full of beans! In this bed there will be a block of 25 sweetcorn with borlotto beans growing up them and a 'crown prince' squash growing amongst everything. In front of them there will be two varieties of courgettes and one small pumpkin plant. There will also be two rows of carrots, one row of swiss chard and two rows of peas in this bed. I'm particularly excited about the peas as I haven't grown them in a while and I've missed them so much! I've chosen a sugar snap variety called 'Spring Blush' which has beautiful pink flowers, lot's of tendrils to serve in salads and the entire pod can be eaten!
The brassica bed was none existence last year so I'm looking forward to growing them this time round, they are the perfect Winter veg and I was sad not to be harvesting anything this season. I've decided to grow a row each of my chosen brassicas and they include swede, red cabbage, curly kale, cauliflower, brussel sprouts and purple sprouting broccoli. It will be my first year growing swede (Charles favourite!) and cauliflower and I'm excited to see how I fare, my Dad struggles to grow a good looking cauliflower so I thought I would have a go! I'm also growing a normal variety of brussell sprouts instead of the flower sprouts I usually grow, they were fun and delicious but I'm letting my Dad have a go at growing them this year. Plus my favourites are returning the the brassica bed because you can never have enough purple sprouting broccoli, red cabbage or kale!
Last but not least once the Summer starts to fade away I like to do a thing which I call the second growing season. I started doing this a good few years ago now and it's been rather successful. It's the perfect way to make the most out of your space throughout the entire year and if you're like me and lack the space it's ideal! So once my potatoes are harvested by July I like to plant out some leeks and swiss chard that I would have sown in the greenhouse a month before. I'll also be direct sowing some kohl rabi and turnips into the same bed as all four of these crops are extremely hardy and do well in colder weather. The brassica bed won't be touched as they all have a long growing season but I'll be harvesting my carrots and sowing another variety in the same space, and once my peas have cropped I'll squeeze in two rows of borlotto beans.
I also use the trough in my second growing season so once the tulips and spring bulbs have died back I like to plant out a butternut squash and a gherkin. Both proved so successful last year that I have my fingers crossed for another great year!
P.s There's also some rhubarb and a globe artichoke nestled amongst the flowers but I'll go into that in the next blog post!
Here is a complete list of all the vegetables seeds I'll be growing as well as the varieties of fruit I already have growing on the plot:
Vegetables:
Potatoes – International Kidney
Sweetcorn – Mini Pop F1
Borlotto Beans – Lingua di fuoco
Climbing French Beans – Cobra
Squash – Crown Prince
Squash – Hunter F1
Pumpkin – Munchkin
Pumpkin – Tom Fox
Courgette – Black Beauty
Courgette – Parador F1
Carrots – Sweet Romance
Carrots – Autumn King
Swiss Chard – Bright Lights
Peas – Spring Blush Sugar Snap
Gherkin – Cornichon de Paris
Swede – Tweed
Red Cabbage – Ruby Ball F1
Curly Kale – Scarlet
Cauliflower – Autumn Giant
Brussel Sprouts – Brodie F1
Purple Sprouting Broccoli – Claret F1
Kohl rabi – Purple Delicacy
Turnip – Purple Top Mila
Leeks – Musselburgh
Radish – Scarlet Globe, Viola and French Breakfast
Globe Artichoke – Green Globe
Rhubarb – (Have yet to choose!)
Fruit:
Raspberry canes – Autumn Bliss
2 gooseberry bushes – Hinnonmaki Green
4 blackcurrant bushes – Ben Lomand
Grapevine – Flame
Apple Tree – James Grieve
Strawberry – Hapil
And that's my plan for 2018! I just hope this year I find the time to actually make it a reality… It's going to be a hectic one with the garden shows, work and Wales as well as a special project in the making. But I'm heading into the growing year feeling organised and eager to make 2018 the best year yet!
P.p.s I'll be posting the plans for the flower patch tomorrow, I just thought it would be better to split them into two so that you weren't bombarded with too much information! Also look out for the planning videos over on my Youtube channel: https://www.youtube.com/watch?v=Dd1UrgasDI4