Hasn't the year just flown?! We've been busy setting up shop at 12 different shows this past Spring and Summer with the last (and hopefully lucky!) number 13 drawing closer. The last show of the year will be the Malvern Autumn Show this coming weekend on Saturday the 23rd and Sunday the 24th of September 2017. It's been fun if not a little bit hectic and I'm looking forward to winding down slightly, I'm pretty sure the allotment is excited too because it means I'll be able to spend more time there!
Of course I'll be heading off to Wales to visit a certain someone after the show but before then it's a week off and a special trip to London on the 30th of September. I'm planning to do lot's up the allotment during that week however, and seeing as Autumn has really set in a lot of the allotment needs putting to bed for Winter. First on my list of jobs is to finally put that galvanised sheeting on and seeing as the shows would have ended I'm going to ask my Dad ever so nicely if he can help me. Once the sheeting is on I can attach the guttering and have a fully functional water butt which I'm so excited about! I need to get pruning and tidy up the rose bush, grapevine, fruit bushes and the perennial flowers in the flower patch as well as weeding the trough ready for the tulip bulbs and just a general tidy up of the plot.
Not that it all needs putting to bed; the carrots are stored safely in the ground waiting to be harvested when needed and the leeks and swiss chard are still happily growing away on the old potato bed. I'm pretty sure the dwarf french beans won't produce anything this year because the temperature has dropped so suddenly and harsh but the raspberries are still cropping like crazy. One of my favourite late bloomers however, were the sunflowers which out done themselves this year. I've always wanted to grow sunflowers taller than me and this year my dream came true, in fact one in particular grew a lot taller and I reckon it must have been 10 foot at least! The variety is Mongolian Giant and I have plans to take seed from the tallest flower head and to grow even more next year.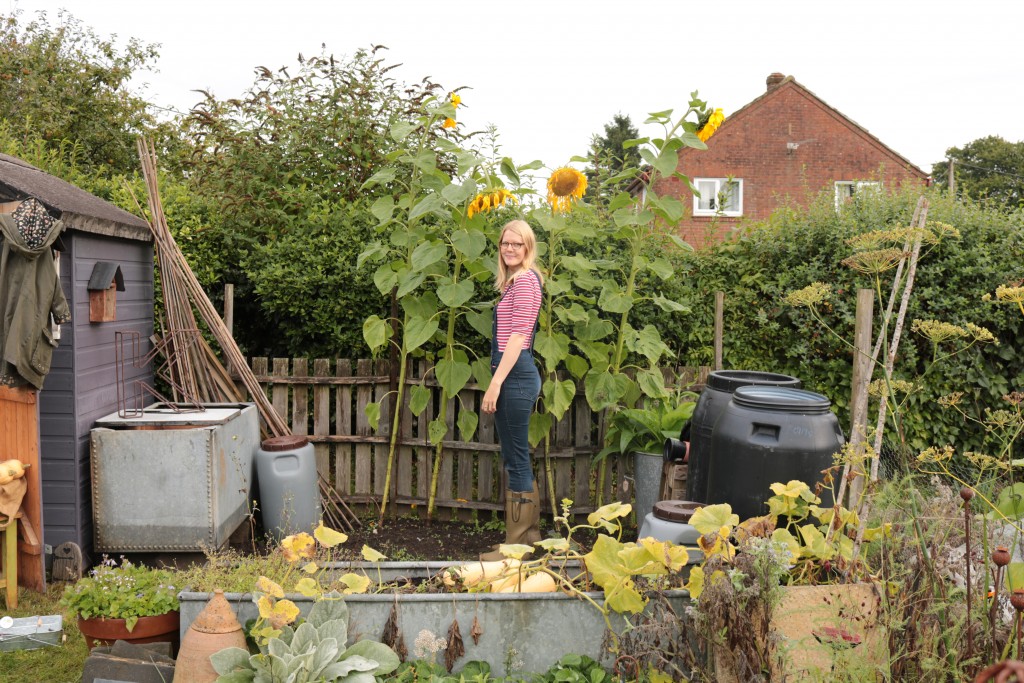 The area of the allotment that needs the most attention is the brassica bed which is knee deep in piles of rubbish and weeds. I've been adding to it throughout the Summer and putting it to the back of my mind but it needs clearing desperately. It's been there so long that the mice have moved in! I still don't know what to do with those strawberry bed cages but it looks like everything else will either be taken to the rubbish tip or buried deep below the surface where the weeds can rot down. Obviously it's too late to plant anything now but it would be great to get the beds ready for the next growing year and now, as the allotment is slowly dying down, seems the perfect time to do it. It's the little area that I'm most ashamed of but here it is in all it's messy glory. I am so sad not to have any Winter vegetables growing this year but the beauty of gardening is there's always next year and I'm going to make sure I don't make this much mess ever again!
Autumn has really set in here and even though the allotment is looking bare and empty it has done me well this year. It's been neglected and deserted yet has still provided me with homegrown goodies and lots of happy surprises and for that I am grateful… Mother Nature you are truly amazing so thank you!