Spring has officially arrived with the presence of my first ever allotment tulip (the rest became victims to the deers hungry bellies!) The sun has been shining a lot over the past week but it seems those April showers have finally caught up with us and now they are simply just getting in the way. Why is it always sunny during the working week and then when the weekend comes it decides to pour down with rain? It's like the weather knows that I am planning a weekend of gardening!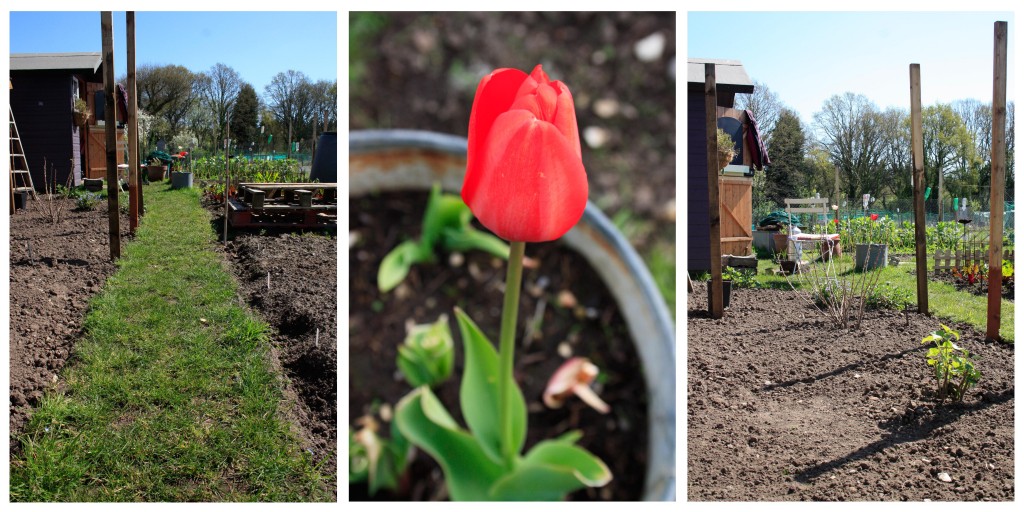 However, my allotment is coming along nicely and I must say that it looks particularly beautiful in the morning sunshine. It has been freshly weeded and things are starting to grow, even the gooseberry bushes and strawberry plants have some little flowers appearing. There are, however, lots more jobs to be completed down on Plot 15C. I need to build two cages for my strawberry raised beds and the fruit cage needs to be completed. I also want to build a cold frame, make an archway and plant supports out of hazel, put the corrugated tin roofing on my shed, buy some guttering, make a bug hotel, put bunting around the fence and sow some more seeds (…and breath!)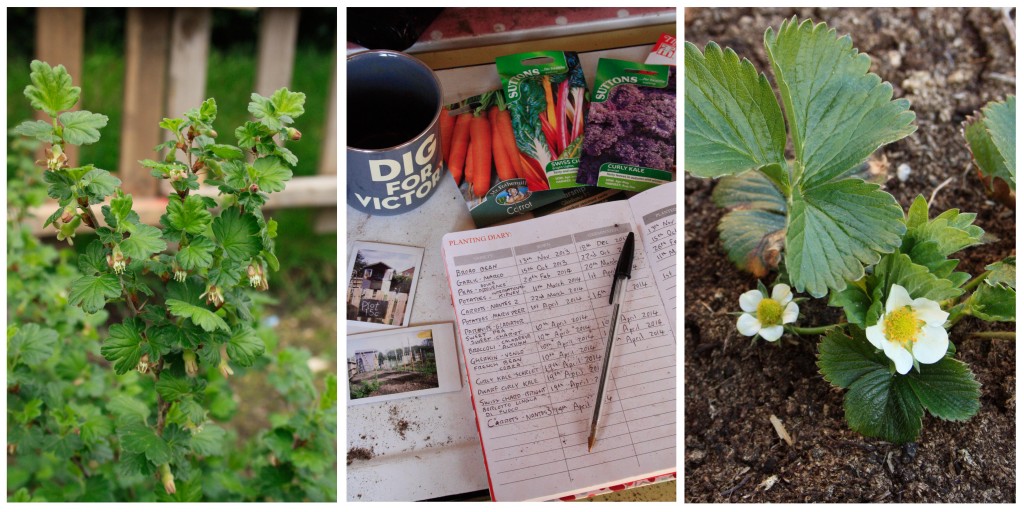 Then theres the matter of planting out all my little seedlings that have been busy growing inside the house. Theres sunflowers, cosmos, scabious, dill, sweet peas, pumpkins, gherkins, brussel sprouts, red cabbages, broccolli, basil, chives, tomatoes, french beans and borlotto beans… To be honest I'm looking foreward to getting all the windowsills back!
This is my first Springtime on my allotment and I love being kept busy (which is lucky!) The weather however is simply becoming a nuisance, as well as stopping me from gardening it is also delaying my Youtube videos. If it keeps up like this then I will have to grab the waterproofs and head out, there is simply just too much to do and it's nearly May already!
On the plus side I turned 25 years old today and was spoilt with some lovely gifts including a rose bush called 'Katies Rose' a new sieve and a beautiful tamper set handmade by my amazingly talented Dad (which I will write a post about soon!)