Even though Autumn is here and the end of the growing year is fast approaching the allotment is holding on to all it's green goodness and is still producing. There's a huge courgette (or I should say marrow!) waiting to be harvested and the brassica bed is overflowing. The kale keeps producing, the red cabbage is ready, the flower sprouts are appearing and the purple sprouting broccoli just keeps growing upwards! There's also raspberries and the radishes in the tank which might need a little cloche to help them along seeing as the temperature has dipped quite a lot.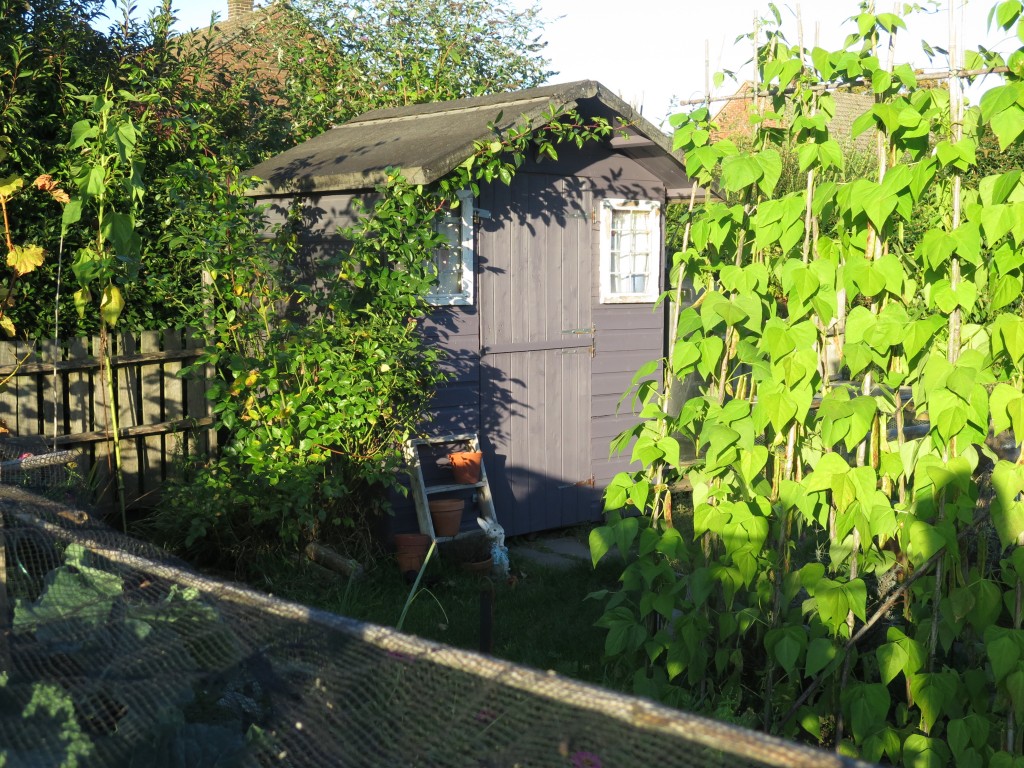 Now if you remember back at the end of July I sowed some borlotti beans where the broad beans were previously growing. All Summer they have been growing happily away, covering the bamboo structure and producing tiny pods. Since arriving back from my 2 weeks away in Wales the pods have had a sudden growth spurt and look fantastic! I am so unbelievably happy with them and just hope that October remains a relatively warm one to give them time to really bulk up. The plan is to dry the beans and store them away for Winter so they can be added to stews and soups etc. I grew the same beans successfully back in 2014 and they were just delicious, my most favourite bean of all time!
Not only are the vegetable's growing well on plot 15c but the flowers have gone mad two… well two flowers in particular! When I left the allotment 2 weeks ago the rose bush was a nice, manageable size but since then it has had a growth spurt… although I kind of like the way it has evaded the front of the shed. Not only has the rose grown but the giant cosmos is blooming brilliantly and is now the same height as me, 6ft! The pretty delicate flowers sure brighten the place up, a must have for next year.