2018 is the year to try new things and for me that is going to be growing in containers. It's funny because this is what the majority of people start out with and then later evolve into a garden or an allotment, whereas I dived headfirst into owning an allotment having no experience or knowledge of growing anything at all!
Containers however, are a great way of growing various flowers, vegetables and even fruits. They can be placed anywhere in a garden or patio, are a great space saver and also enables you to grow things you might never have been able to grow in the ground. Plus containers come in all shapes and sizes, from small windowsill pots to hanging baskets and large water troughs.
Of course I've been using containers up the allotment for the past 4 years now and they've been great. There's the old water tank that houses my radishes, a 10 foot water trough where my Spring bulbs, gherkin and butternut squash grow in plus various pots and chimneys for Comfrey, Gypsophila and even more bulbs! One of the things I do look for in a container is age and character, pots can be mega expensive so it's great to get out and hunt down some beauties from local markets and car boots. I'm lucky enough to have a job which specialises in vintage gardenalia and we often pick up things which make their way into my allotment. I just love that quirky look and love the idea of upcycling something old into a gorgeous planter filled with homegrown goodness.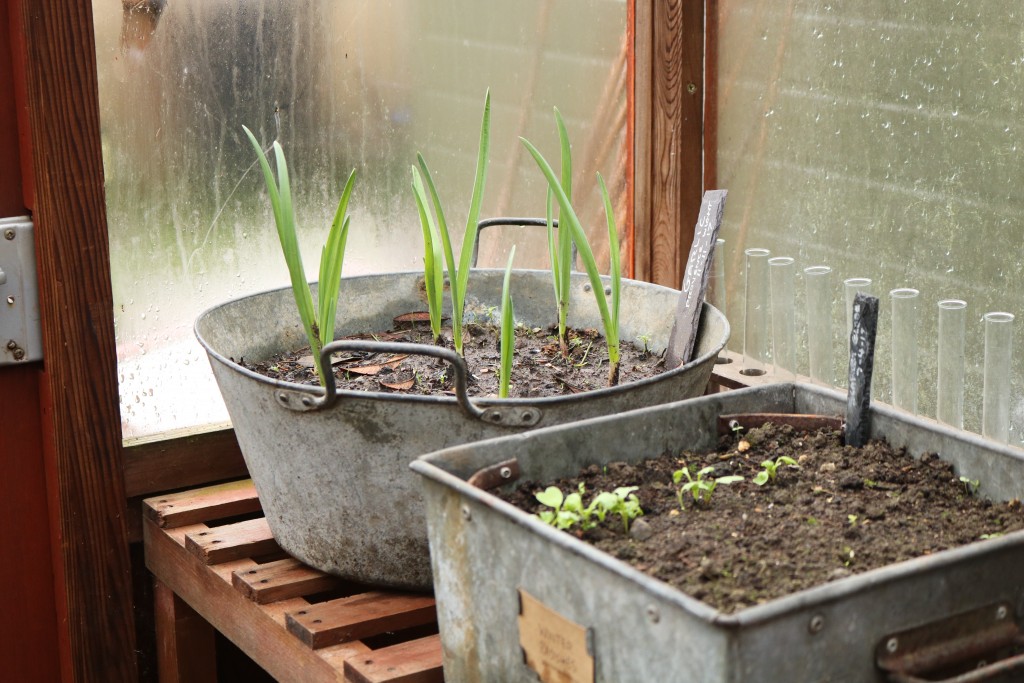 So far I've already planted some garlic into a small galvanised container back in November and it's doing brilliantly. My one and only reason for planting up my garlic here was because I have failed to grow it in our heavy, clay soil so for me this was the only option and a bit of an experiment. This way I can add drainage holes, pour in a layer of grit and mix the soil with sand whilst keeping an eye on the water intake… If I can't grow garlic in a container then I give up!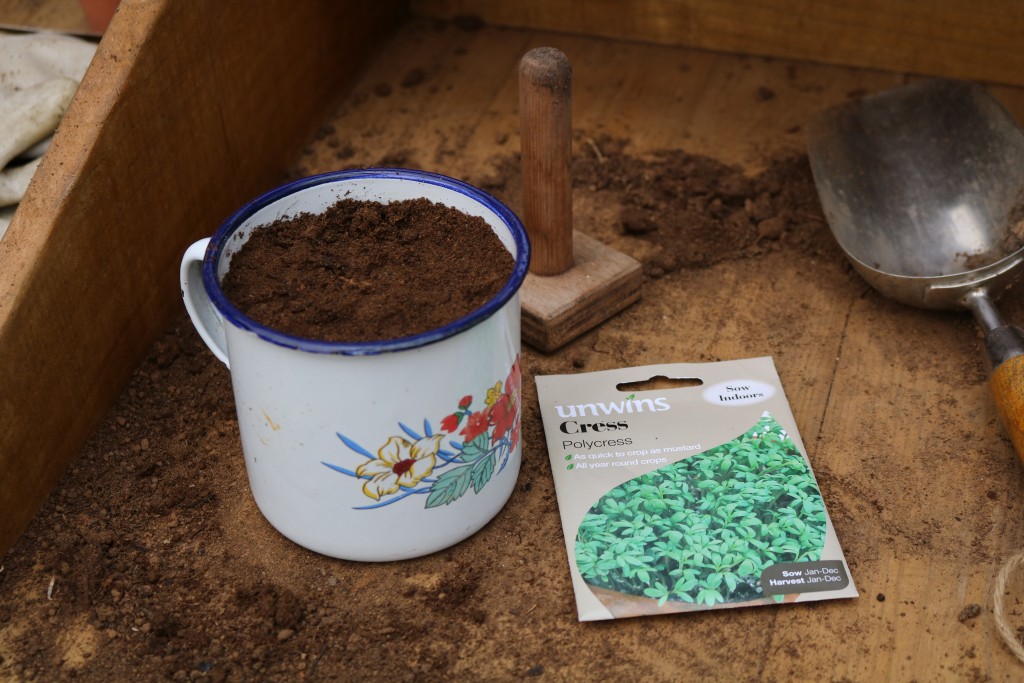 Cress has also recently been sown into an old enamel mug for a quick harvest. I'll admit that I haven't grown cress since I was at primary school but it is one of those simple but deliciously quick crops that any green fingered gardener can't resist, especially when it's too cold and damp to grow anything outside right now.
Here's what I'll be growing in containers this year:
Radish – Sparkler 3
Chives – Garlic
Basil – Classic Italian
Parsley – Italian Plain Leaved
Mint – Spearmint
Chamomile
Swiss Chard – Bright Lights
Tomatoes – Tumbling Tom Red
Spring Onions – White Lisbon
Mung Beans
Garlic – Provence Wight
Cucumber – Gherkin
Carrots – Chantenay Red Cored
Peppers – Star Mix
Courgette – Parador
Cress – Poly Cress
Rocket – Wildfire
Pak Choi – Red Choi
Some of these will be grown in pots on the windowsill, some will be placed just outside the backdoor and some will be hanging from baskets. I'll be growing some in large quantities, some in succession and even the odd container housing just one or two plants.
My plan is to have as many homegrown, fresh and quick crops within reach and to prove that anyone can have a go at gardening, no matter the space or know-how!