So today Saturday didn't quite go to plan but it ended up being one of the best days ever spent up the allotment and most importantly getting jobs ticked off that list. It started with filming a vlog in the greenhouse, there was a thick layer of fog everywhere which soon lifted to reveal the sunniest and hottest day of the year so far. By then the time was 10.30 and I decided to head to a local country store to pick up some fencing posts (which they didn't have so I had to go to another 30 minute drives away!) Home for a quick lunch and then I headed up the allotment with a car full of fencing posts, screws, nails and tools, I was one determined girl!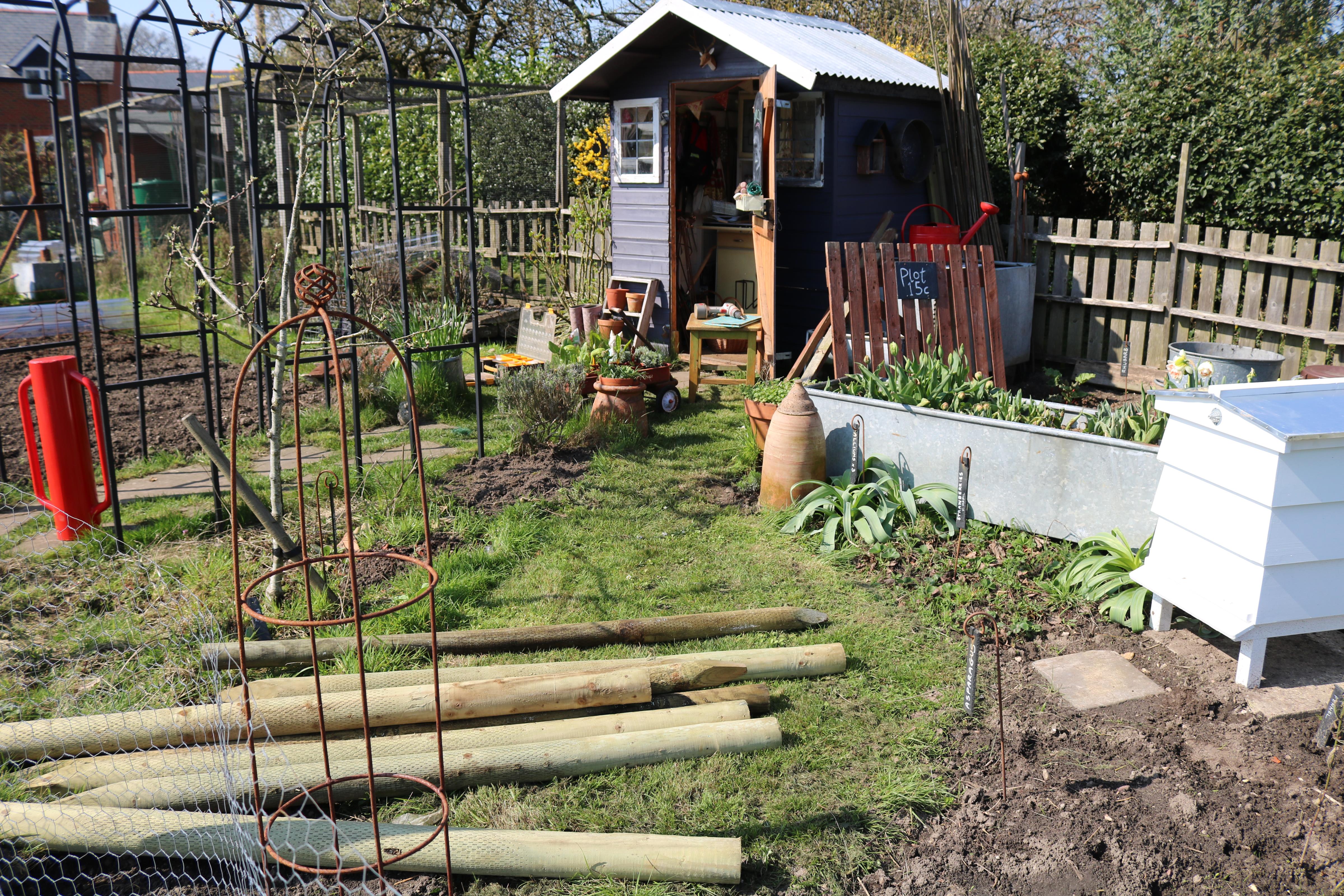 My Dad was over on his allotment rotavating the potato bed, planting his peas out and finally chopping down that huge hazel tree on the abandoned plot next door so he offered to help me put the two gate posts in. I got to use my new post rammer from eBay which worked like a dream (whilst working my muscles!) and both posts went in nice and straight. Whilst I made us a cup of tea my Dad used a chisel to flatten the areas on the posts where the hinges and clasp were going before we attached the gate. I cannot explain how happy this makes me and I'll admit I spent the next 10 minutes opening and closing my gate! I actually have a fully working gate again for the first time in 6 months!
After we had our tea break and my Dad headed back to his own plot I carried on putting the front two gate posts in before nailing the pieces of pallet securely onto them. The chicken wire fence also had to be nailed on using U nails which I found so therapeutic. Standing back to admire my handy work I felt my heart swell with pride and happiness. The entrance to the plot is so important to me and now it's back to looking neat and tidy, and did I mention I have a working gate!?
Next on the list was to replace some of the fence posts around the plot, around 5 of them had rotten under the ground and snapped leaving my fence looking rather out of shape. I removed the old U nails securing the chicken wire, took away the old posts, banged in new ones and re-attached the chicken wire with some new nails. And job done! All in all it took me roughly 4 hours which I don't think is too bad, of course the post rammer made such easy work of banging the posts in and I'm so thankful to my Dad who helped with the first two posts (and to my Mum who brought us much needed ice creams!)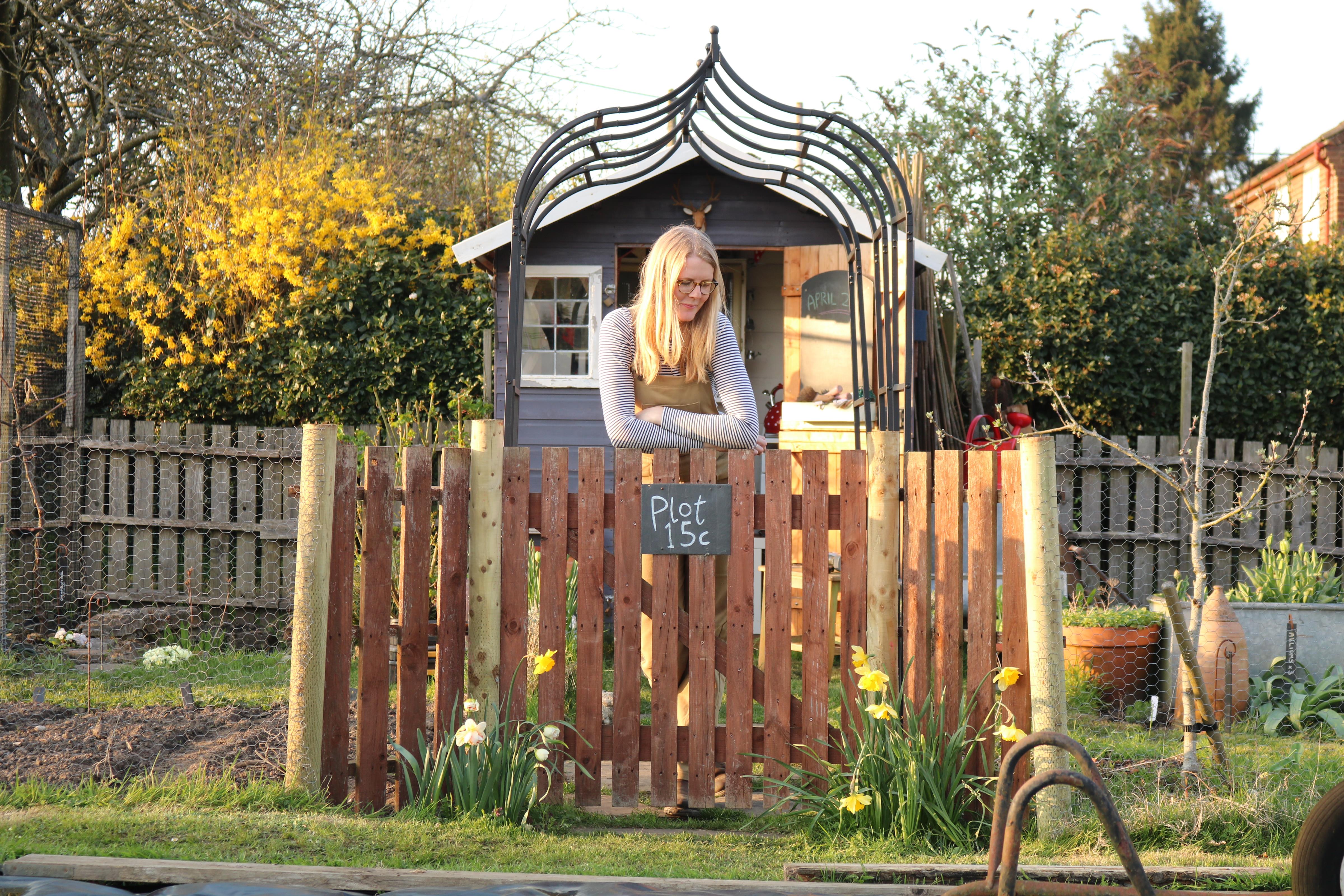 I still can't believe how glorious yesterday was, the sun was shining all afternoon long and it was so hot! I am so grateful for the weather as this will be our last free weekend in a long time, the garden show season starts next weekend with us setting up shop at Firle Place. From then until September we will be selling at 14 different shows so nearly every weekend will be spent away and every weekday will be busy getting stock ready for the next show. We are so organised this year however and have promised ourselves days off when we can to work on the allotment and some personal projects too. A full list of our shows can be found here: http://www.lavenderandleeks.co.uk/events-2/
Both me and my Dad went home that day feeling extremely happy with ourselves. We both had the best times in one of our favourite places, the sun had been shining and we managed to tick off massive jobs too. Aching muscles and happy hearts all around!
Have a lovely Sunday everyone x