Spring is just around the corner and I've been a busy bee planning the next growing season on plot 15c. It's one of my favourite jobs to do during the Winter months and always gets me very excited for the year ahead. When it's too cold to work outside you can sit down and put your dreams onto paper, flick through the seed catalogues and get organised before the busy period begins.
Not much is changing on my plot, I've had it 5 years now so the layout will be staying the exact same and I've also learnt which varieties of seeds I like to grow too so there's not much changing on that front either. I suppose that happens when you've had your allotment for a while, you learn what you like and what grows well in your area so why change? However, there are a few new vegetables and flowers added to the mix this year and I am so excited to try them out.
For some reason I like to give each little area on my plot a name, it makes it so much easier to explain to people and I also just like giving things names! There's my three rotational vegetable beds measuring at 3 metres by 2.5 metres each, the fruit cage, the wildlife patch, the shed and nutritional zone, the trough, the flower patch and the archway. My overall plot measures just 12 metres by 7 metres so I have to make use of every little space available which involves a lot of containers and vertical growing.
The three year rotational beds are split into the potato bed, the brassica bed and the legume/other bed. Over the year's I've been learning which varieties do well and which don't, how much of each crop I should be growing and that the key to success is to just grow what you really like to eat. In the brassica bed I'm simply growing one row of each vegetable which is plenty enough for me, there's nothing worse then growing too much of something and it going to waste. I've swapped my usual International Kidney salad potatoes this year too and it's one I'm excited about. The past couple of years I haven't been happy with the crop so I thought it was time to try something new, so this year I'm growing two rows of Charlotte and two rows of Red Duke of York. The legume/other bed isn't changing much at all but I've decided to try some interesting new crops this year including a beautiful pink 'Galeux d'Eysines' squash, a climbing courgette called 'Shooting Star' and some Soya beans!
Yet again I'll be using my second growing season to it's full potential, so once some of the earlier crops have finished producing they'll be replaced with a set of new vegetables to keep me going through the Autumn. Sometimes this works amazingly well and sometimes not so good, it all depends on the weather of course! There's absolutely no harm in trying and you might even be rewarded with some delicious late harvests so it's a risk worth taking. I'm also going to give green manure a go once the potatoes are harvested by August. It's something I've wanted to do for years but never found the space, this year however I've made sure to leave the potato bed empty after they've been harvested for this reason alone.
The fruit cage houses 4 blackcurrant bushes 'Ben Lomond', 2 gooseberry bushes 'Hinnonmaki Green' and a row of 'Autumn Bliss' raspberry canes. I've also popped 3 'Sonata' strawberry plants into a hanging basket which hangs off the fruitcage frame and over the wildlife patch.
Next to the fruitcage is a small tank which I've nicknamed the Radish Tank! This fits 4 successional rows of radish inside throughout the Summer and I'm excited to try two new varieties this year, 'Watermelon' and 'Pink Beauty'!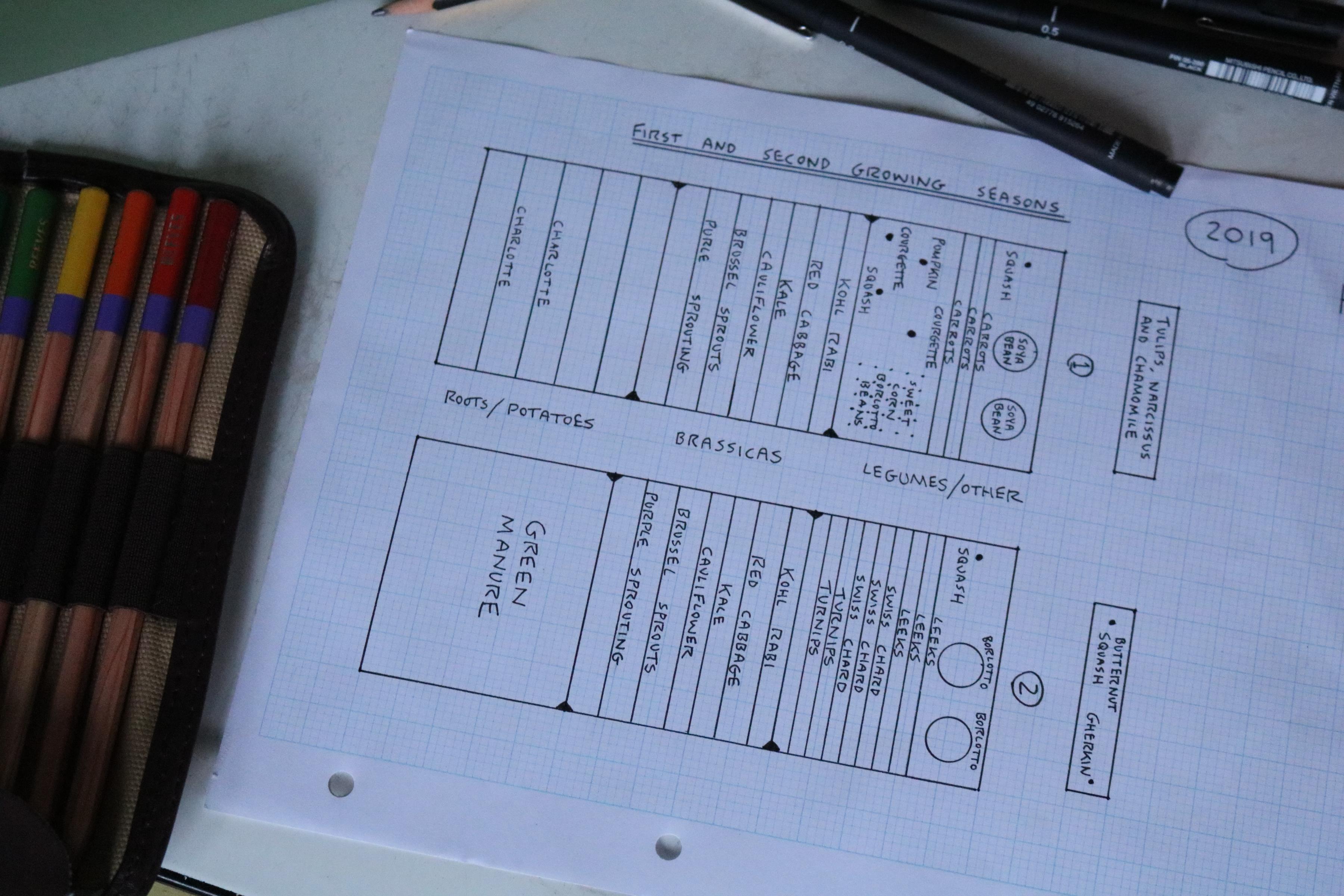 Now onto the flower bed and one of my favourite areas of the allotment. I loved sitting in my deckchair on this grassed area in the Summer months last year, surrounded by flowers and bees buzzing around… it was heaven! A few of my staple annual flowers like Cosmos, Scabious, Zinnia, dwarf Sunflowers and Ammi Majus are back because I can't have a garden without them. However, this year I want to try growing more flowers to dry so I'll be growing Strawflowers, Globe Amarath, Yarrow, Honesty and Cornflowers. I'm a little obsessed with dried flowers and love the fact that they last so long indoors in a vase, bringing that much needed colour and nature indoors during the Winter months.
I'll also be growing sweet peas up the archway yet again along with the munchkin pumpkins and climbing french beans. Plus there will be plenty of annual flowers dotted around the vegetables and not forget a trailing Nasturtium 'Spitfire' in amongst the brassicas! To fuel my addiction to Chamomile tea I'm planning on planting lots of it around the 3 rhubarb crowns and also in the trough with the Spring bulbs (and later on butternut squash!) Last but not least there will be lots of sunflowers placed around the edge of the plot to create privacy barriers, this year I'm trying a multi branching variety called 'Soraya'.
The Wildlife patch is mainly made up of Perennial flowers, self seeded borage, an established rose and a 3 year old grapevine too. However, a few annuals like Sunflowers and lot's of Calendula will be planted here for use in beauty products later on. This area is mainly for the Wildlife and I wanted to create a space which I didn't need to fuss around too much, hence the perennial flowers! It now hosts a bug hotel and a brand new Clematis Montana 'Elizabeth' which is hopefully going to climb up the side of the shed and onto the roof…
Last but not least are my spreadsheets, they helped me to be really organised last year so I'm putting my faith in them yet again as no doubt this year will be just as busy! I like to write down all the varieties I am growing  as well as the quantity I need and when they need to be sown, planted out and harvested. I also make up a spreadsheet I can fill in, this helps me remember when I sowed the seeds, when they germinated, when I potted them on and planted them out etc. It's a very simple and handy way to try and keep on top of things and I find it works really well!
And I think that is that! I hope I've covered everything but if you have any questions then please do comment below or head on over to Youtube where I go through my plans face to face with you. All that's left to do is leave my list of seed varieties/plant names below and wish you all a very happy growing year!
Vegetable Seeds:
Purple Sprouting Broccoli 'Early Purple Sprouting'
Brussel Sprouts 'Evesham Special'
Cauliflower
Kale 'Nero de Toscana'
Red Cabbage 'Red Drumhead'
Kohl Rabi 'Delicacy Purple'
Sweetcorn 'Minipop'
Borlotto Beans 'Lingua di Fuoco'
Climbing French Bean 'Cobra'
Courgette 'Shooting Star F1'
Courgette 'Costata Romanesco'
Pumpkin 'Tom Fox'
Squash 'Crown Prince'
Squash 'Munchkin'
Squash 'Galeux D'Eysines'
Butternut Squash 'Hunter'
Carrots 'Romance'
Gherkin 'National Pickling'
Soya Bean (Edamame) 'Fiskeby V'
Radish 'Watermelon', 'Pink Beauty' and 'French Breakfast'
Swiss Chard 'Bright Lights'
Leeks
Turnips 'Purple Top Milan'
Asparagus
Potatoes 'Charlotte'
Potatoes 'Red Duke of York'
Flower Seeds:
Ammi Majus 'Graceland'
Scabious 'Sternkugal'
Scabious 'Fata Morgana'
Cosmos 'Dazzler'
Cosmos 'Fizzy Rose Picotee'
Zinnia 'Queen Lime with Blotch'
Strawflower 'Salmon Rose'
Strawflower 'Bright Rose'
Dipsacus Fullonum 'Common Teasel'
Cornflower 'True Wild Form'
Lunaria Annua 'Alba'
Sunflower 'Soraya'
Sunflower 'Mongolian Giant'
Sunflower 'Sonja'
Poppy 'Giant'
Calendula 'Touch of Red Buff'
Calendula 'Indian Prince'
Chamomile 'Bodegold'
Sweet Peas 'Greenfingers'
Sweet Peas 'Royal Lavender'
Nasturtium 'Spitfire'
Globe Amaranth 'QIS Mixed'
Yarrow
Perennial and Biennial Flowers:
Anemone 'Wild Swan' and 'September Charm'
Dahlia 'Cafe au Lait' and 'Fairway Spur'
Allium 'Gigantium' and 'Mount Everest'
Rose 'Katie's Rose'
Gypsophila
Clematis Montana 'Elizabeth'
Rudbeckia
Cirsium Rivulare Atropurpureum
Geum 'Flames of Passion'
Fox Gloves 'Sutton Apricot', 'Elsie Kelsey' and 'Foxy Group'
Hollyhocks
Verbena Bonariensis
Perennial Vegetables:
Asparagus
Globe Artichoke
Rhubarb
Herbs:
Feverfew
Lavender
Fennel
Rosemary
Dill
Borage
Chives
Garlic Chives
Lady's Mantle
Spearmint
Chamomile
Skullcap
Sage 'Purple Sage'
Fruit:
Grapevine 'Flame'
Strawberries 'Sonata'
Raspberries 'Autumn Bliss'
Gooseberries 'Hinnonmaki Green'
Blackcurrants 'Ben Lomund'
Apple 'James Grieve'