It looks like Summer has arrived and about time too! It's so nice to see the sun shining when you wake up and stay shining until you go to bed. The extra hours in the day simply means there is more time to do things and believe me, there is a lot that needs doing both at home and at the allotment.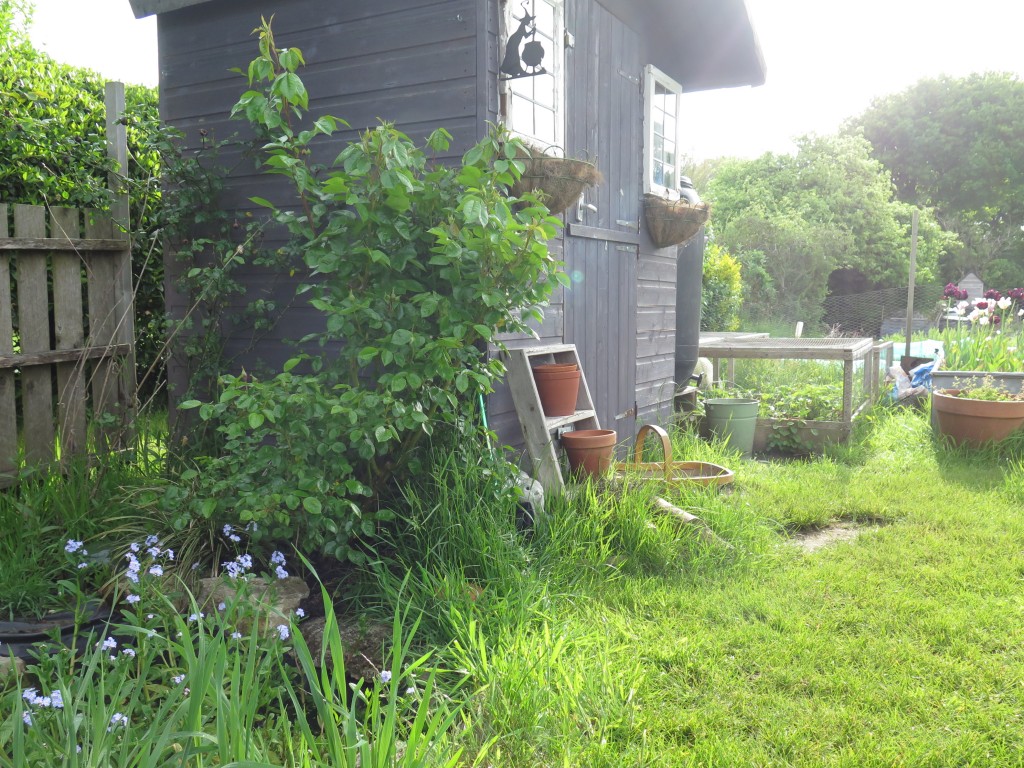 Every time I go to Wales I dread to think what I will find when I come back and if I'll need to cut a path through the weeds just to get to my shed. However this time I was surprisingly pleased to find that the weeds hadn't grown much and all the important things had! It makes me even more excited for the year ahead and all the yummy harvest and cut flowers that the allotment will provide for me.
The broad beans in particular have had a sudden growth spurt, they are now roughly 4 foot high and have lots of lovely flowers on them, the bees are in heaven! I'm also pleased to say that I noticed lots of baby broad beans forming on the plants and there's even one there about 3 inches long. It won't be long until I'll be harvesting some broad beans and I can't wait! The red onions next door are also looking stronger and healthier, my first time growing onions so fingers crossed I get a nice little harvest.
The new flower patch is also starting to look alive with a few of the perennials adding some much needed colour to the allotment. The apple tree is blossoming beautifully, the Cirsium rivvlare atropurpureum is in bloom, the Euphorbia is adding a splash of bright green to the patch and the Geum 'flames of passion' which I planted last year and forgot about has popped up and is blooming beautifully. There's also the rhubarb which is slowly growing and the globe artichoke I had sown last year is in the corner and looking healthier and a tad bigger. This area desperately needs weeding though ready for some annual seedlings which are sat in the greenhouse waiting to be planted!
And then last but not least the potatoes, I managed to earth them up the other night a little bit later then I would have liked but they grew so quickly whilst I was away, it must have been all this rain and sunshine we've been having! They are now tucked up and will need earthing up again in a few weeks time no doubt, then in late June I expect I'll be harvesting them… this year is going so quick!
Another surprise up the allotment were the flowers on my strawberry plants. I really didn't expect much from them this year due to neglecting them, both beds were completely covered with weeds, in fact it looked liked I was growing grass instead of strawberries! A quick weeding session before I left for Wales must have done them some good, the beds are littered with tiny little white flowers which will hopefully turn into some delicious strawberries.
This weather has really got me excited for the year ahead and I can't wait to get up the allotment a couple of evenings this week to start planting out vegetable seedlings in the greenhouse. Both the greenhouse and coldframe are starting to fill up and we desperately need the space. Looks like I'm going to be busy but I'm not complaining, it will help me keep my mind off Wales and missing a certain someone…