Nothing beats a trip to the allotment and it's the perfect place to lift your mood which is just what I needed after arriving back from Wales. It's my little haven and never let's me down, plus the sun was shining beautifully and all the signs of Spring were putting a bounce in my step.
The first thing to greet me on my allotment were the bright yellow daffodils gracing the upcycled pallet entrance to my plot. They were planted there when I first got my allotment and ever since I've been making mental notes to plant more bulbs there, maybe this year I will actually get round to it! The primroses next to the pond are putting on a fantastic show of double flowers and they are sure helping to brighten up the space. I even spotted the first frog in the pond for ages and I'll admit I got a little bit excited! The pond itself needs a good clean but that will have to wait until later in the year now, a lot of dirt has fallen in and has left atleast a 30 cm pile in the bottom of the pond. However, the water forget me not is growing back after it's harsh pruning and the water iris is producing lots of green leaves ready for the year ahead. Plus the rose bush I pruned during the Winter is producing tiny clusters of new leaves, I'm thinking now that I should have pruned it a little harder!
I was so happy to see the tulip trough brimming with lush green leaves and there was even a small bud appearing on one of the bulbs! Fingers crossed the tulips fare better than last year and that they bloom beautifully. It's one of my favourite flowers grown here on plot 15c and I'm so excited to see them flower. I added a layer of 6X Natural fertiliser a month ago and so far the tulips seem to be thriving, hopefully the trough will be full of colour at the end of April if all goes well. The lasgane bulb pot I planted up is also starting to produce leafy goodness and the first snowdrop has bloomed. I planted these bulbs out a little late (December) so they took a while to get going, it looks like they'll all be blooming at the same time though!
Last but not least I couldn't resist a peek at my purple sprouting broccoli. It's all coming on beautifully now with lots of stalks appearing, it will be a few more days yet until it's ready to harvest but I am so excited! Last week my Dad cut out the centre broccoli whilst I was in Wales and it seems to have done wonders for that plant, it's produced twice as many stalks which means more for me to harvest. Therefore I decided to cut the centre out another plant so I could try my first homegrown purple sprouting for supper that night knowing that soon I'll be harvesting more than one piece!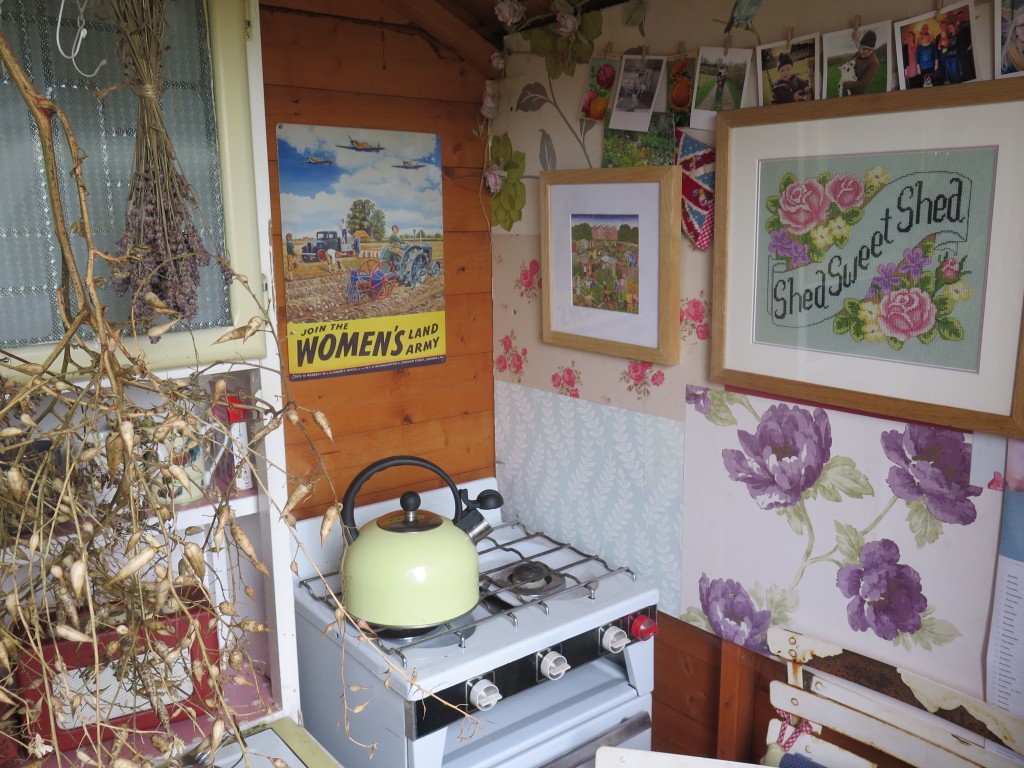 I'll admit that I was only up there for less than half an hour but my mood lifted and I was ready for the rest of the day. I was busy working away at home cleaning the endless amount of galvanised and enamel tubs my Dad's been busy buying over the past week for our garden shows. I could have stayed up there all day drinking tea in my shed (which desperately needs a clean!) but I guess I'll just have to wait until the weekend… Happy gardening everyone!