It's the middle of December and Christmas is nearly upon us, it's my favourite time of the year and everything's been a little hectic right now filming new videos and spending time with the family so poor little plot 15c has been neglected once more… Not only has it been all hands on deck with Christmas but the weather has dipped and it's been so very cold! Unfortunately we were one of the only places to not get snow but the ground was still frozen and the rain still came which meant that all the jobs I was intending to do up the allotment this Winter have been pushed back yet again.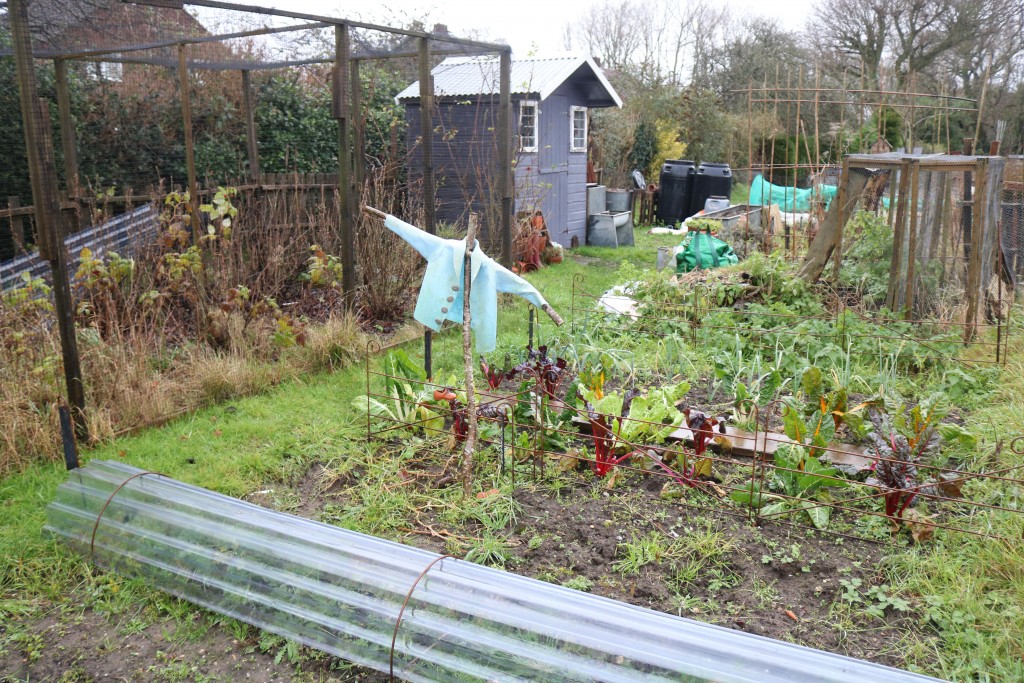 The whole plot needs weeding and a general tidy up, the beds need digging over, plants need pruning and that huge pile of rubbish on the brassica bed is still there! I'm so sad this year not to be picking any Winter crops from my brassica bed, last year there were red cabbages, kale, flower sprouts and purple sprouting broccoli growing happily away and being harvested throughout these cold months. Although I am grateful for my little bed of swiss chard which is brightening up the place and being picked when we need it. It's extremely hardy and so far these frosts haven't damaged the leaves at all, one year I remember having snow and the chard still battled on! There's also a couple of rows of tiny leeks and I'm still harvesting from my two rows of carrots too. I've popped a cloche on top on these to keep them toasty, it also makes life easier when I want to pick them as the ground won't be frozen solid.
The flower patch also needs a good tidy and there's plans afoot to move all the perennial flowers over to the wildlife area and finally finish my bug hotel and spa! Once that's done I can weed the border and get it ready for the year ahead and all the plans I have been busily making this Winter. I'm so excited to share them all with you but that can wait for another blog post! The area at the back also needs tidying and the guttering needs attaching to the shed. I have all the wood and galvanised sheeting to make a manure bin and the small bed just needs clearing of the old sunflower stalks and a good weed. There's also a new addition of a smaller feeding trough by the old water tank which will house some chamomile plants to make myself tea with, another project which I can't wait to get started with!
Let's get Christmas out the way and then I can find some spare time to work on the allotment… I promise to look after it more in 2018!